Welcome to England's paradise, Cornwall. Here you'll find white sandy beaches, clear blue water, and many surfing opportunities. If you're into hiking, you'll find the South West Coast Path to your liking. This epic route is 1014 km if you're up for it, but you can also walk small pieces of it as we did.
Cornwall's Hidden Gem – Lantic Bay
We got our first glimpse of the clear blue waters of Cornwall at Lantic Bay. It was quite a hot day, even though it was only the beginning of April. It's a short hike to the beach, but it's steep. You'll feel your legs coming back up, but the views make it worth it!
There's a small National Trust car park on the road to Polruan. I must warn you, though, if you're visiting with a big camper, the roads are very narrow in Cornwall.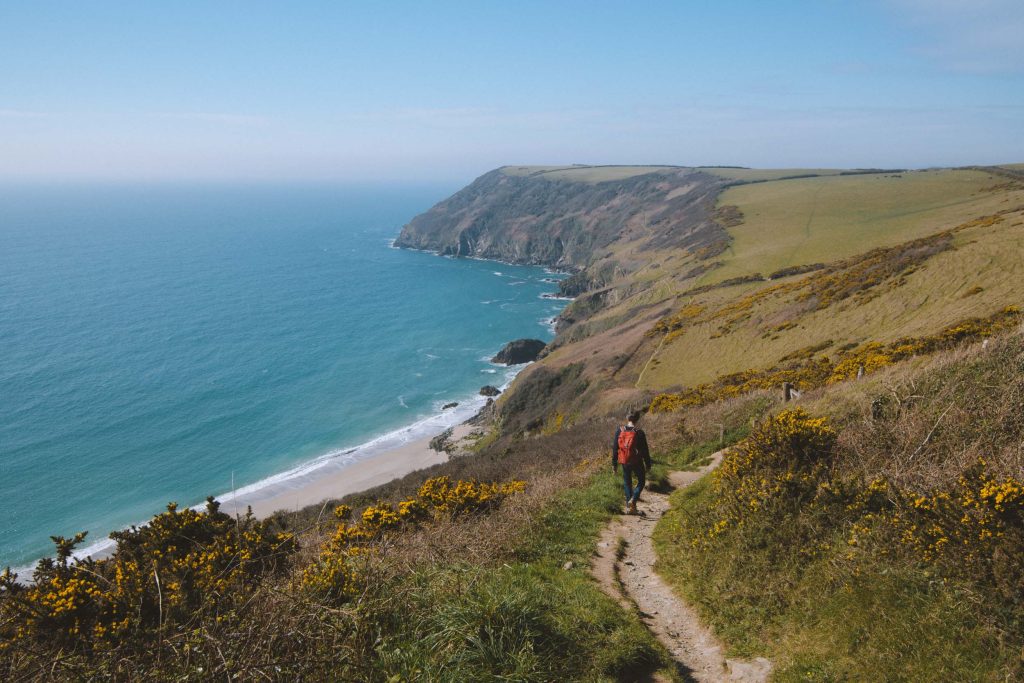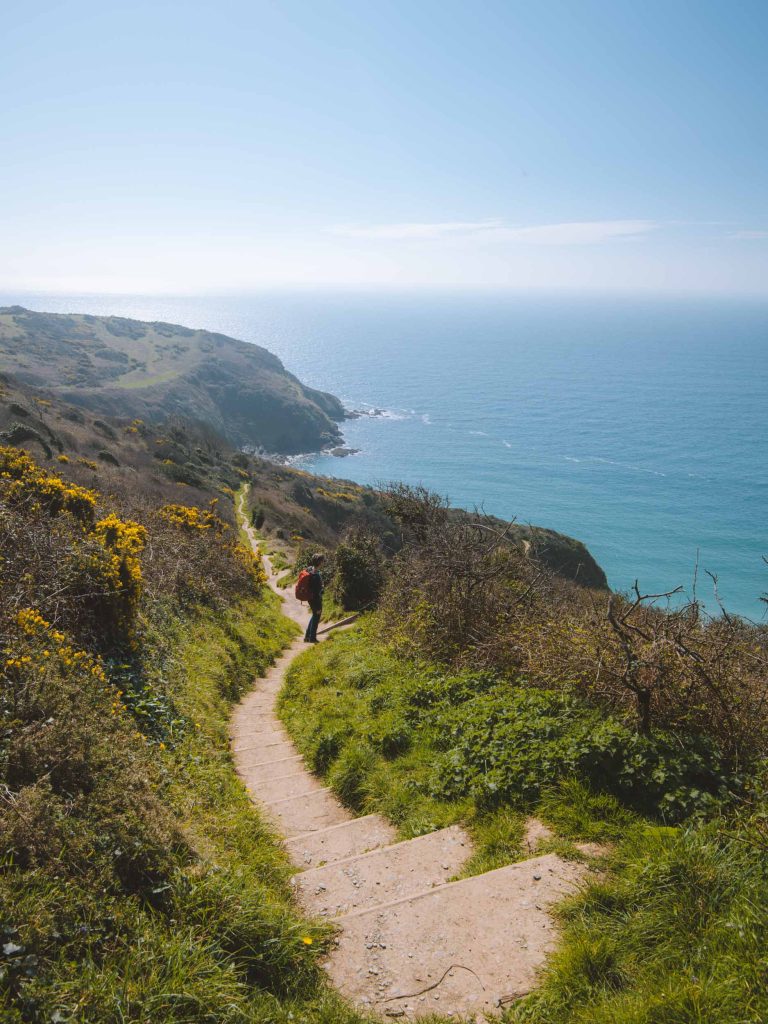 Lantic Bay delivers. The beach is stunning! It's possible to go for a swim, but the waves can be wild, so be careful! I love the ocean, but I'm also a bit scared of big waves, so I only put my toes in the water. We took our lunch with us to stay a bit longer, enjoying the spring sun.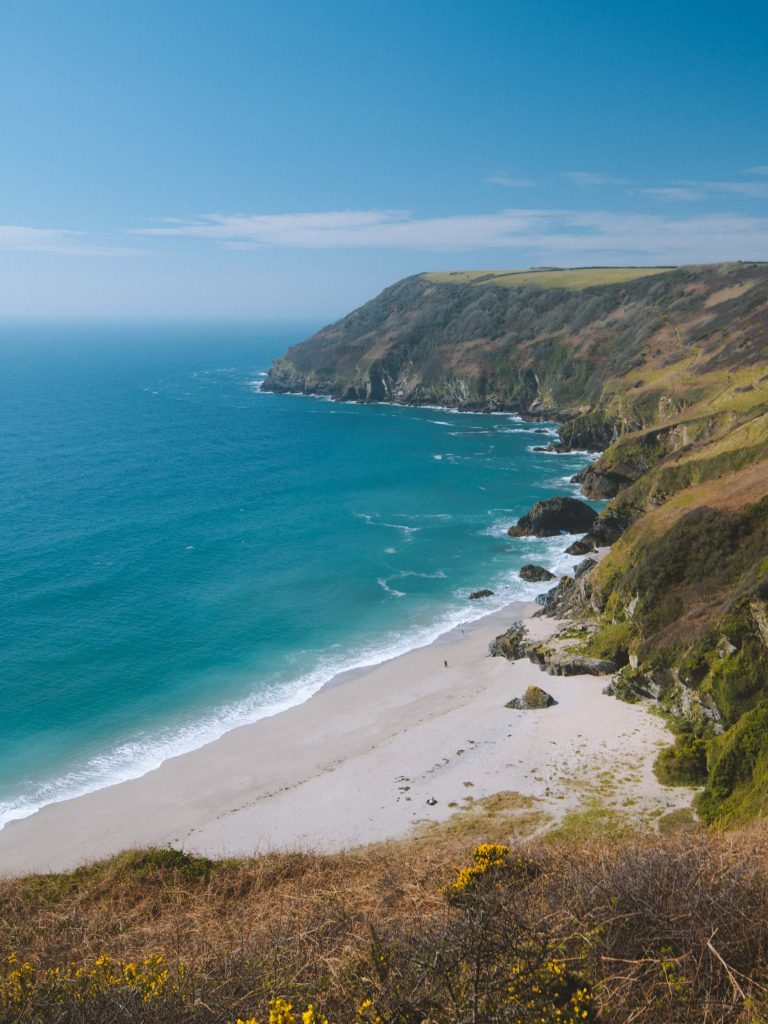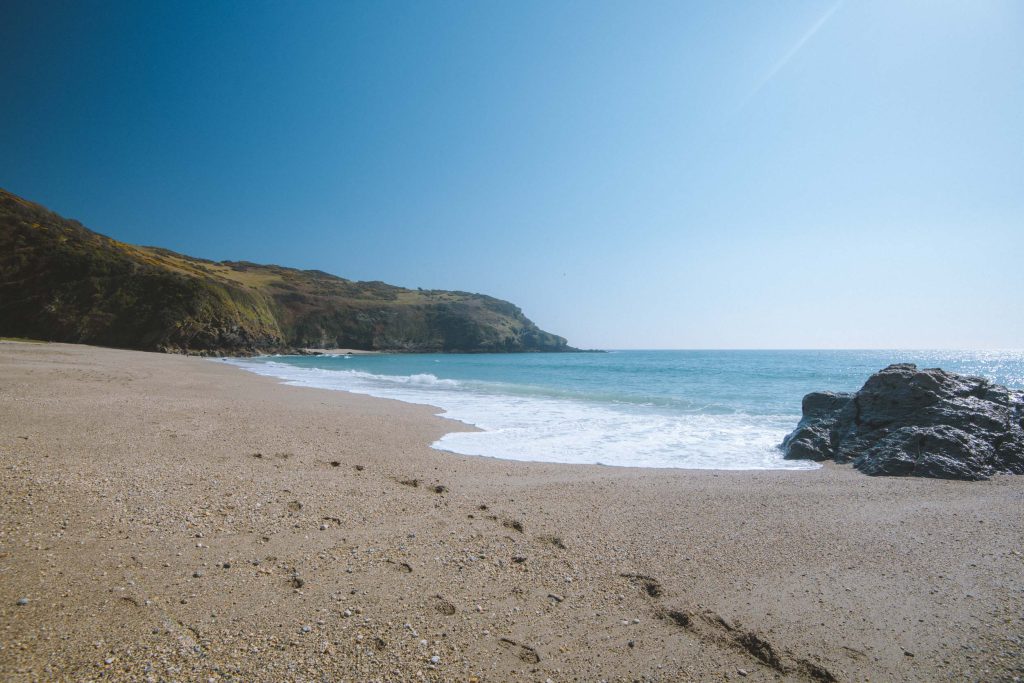 Portloe, One of Cornwall's Prettiest Villages
Okay, so, if traveling by camper, I don't recommend visiting Portloe. Have I told you about the narrow lanes in Cornwall? Here goes: the road through Portloe (I don't think you can even call it a road) is NOT suitable for a big van like ours. It's a two-way street, and our van barely fits. Our side mirrors had like 10 centimeters left on either side. No fun!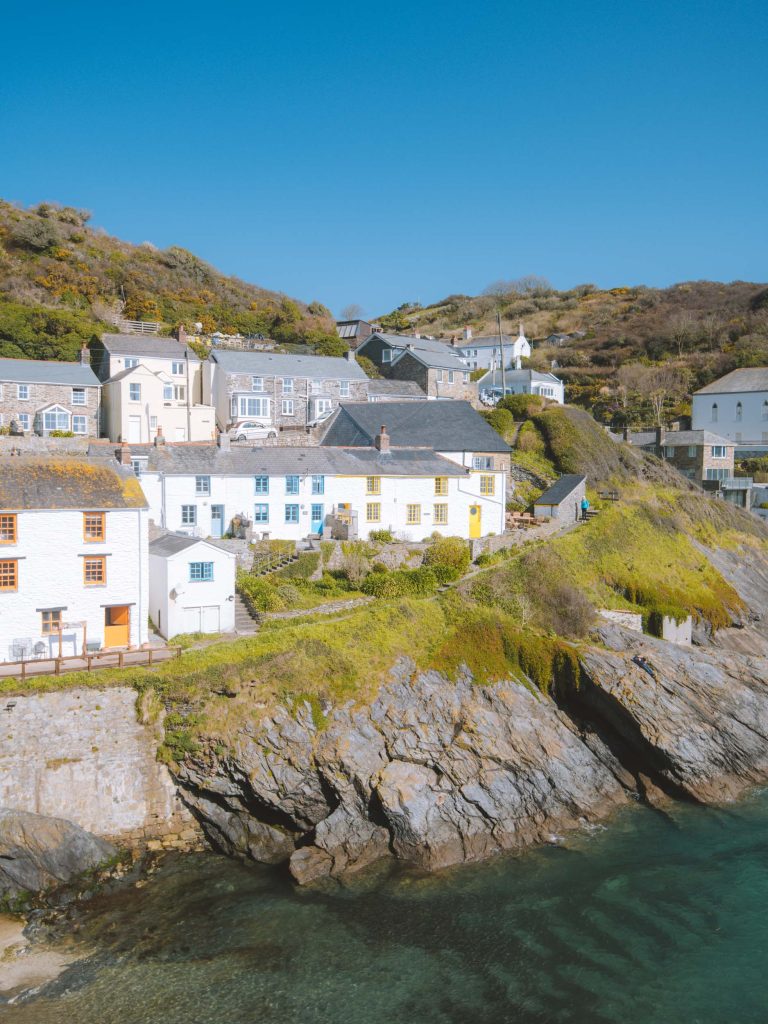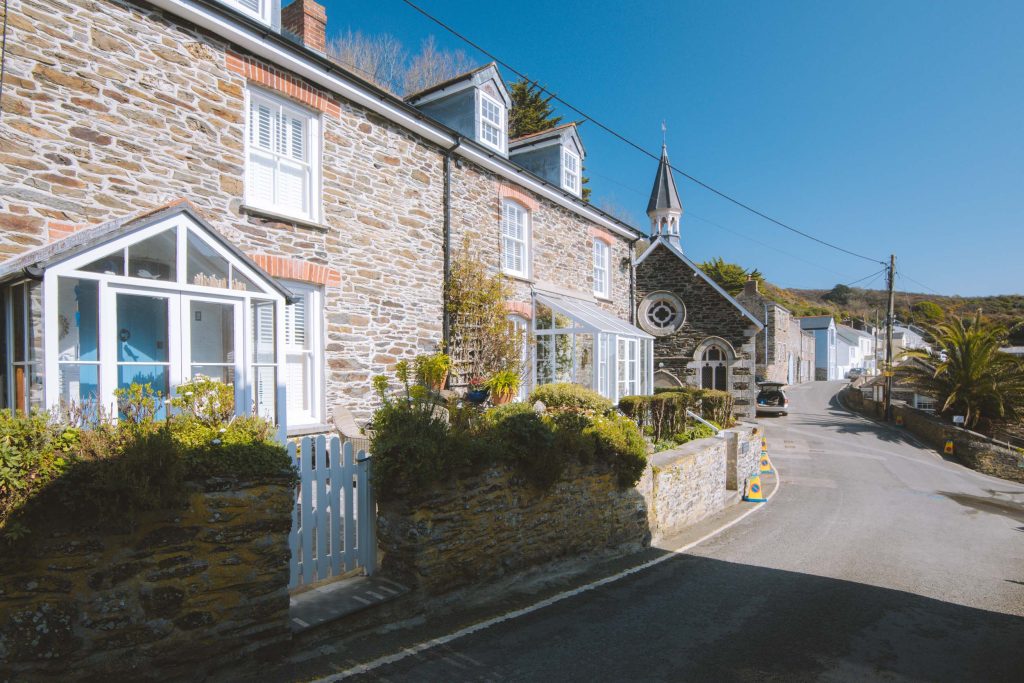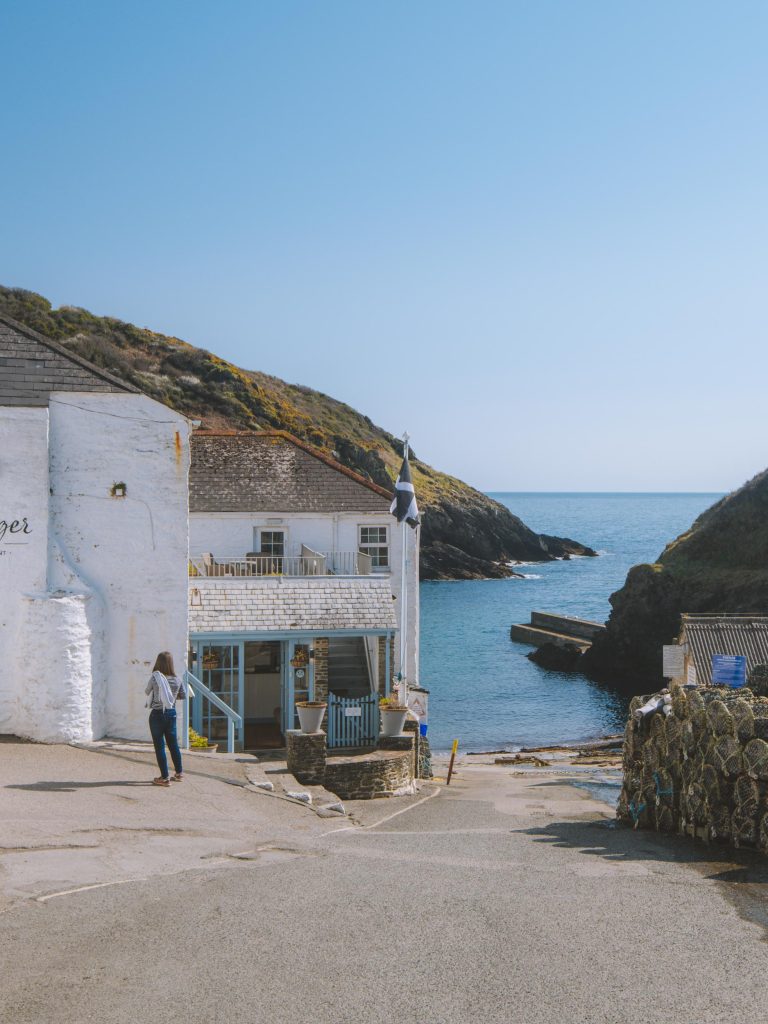 It was a very stressful drive through this charming village. And guess what, I had to pee, so we had to make a pitstop in search of a toilet! And then we took a 10-minute walk through town to make this heart-stopping drive worth it. But again, do not put Portloe on your itinerary when visiting with a bigger van.
The Lizard Peninsula
Trying to stay away from the narrow village roads, we drove to The Lizard Peninsula, once an ill-famed graveyard for ships. We stayed at Henry's campsite, an eccentric campground with bits and bops around the garden, a duck pool, and beautiful sea views. It was one of our favorite camping stays so far!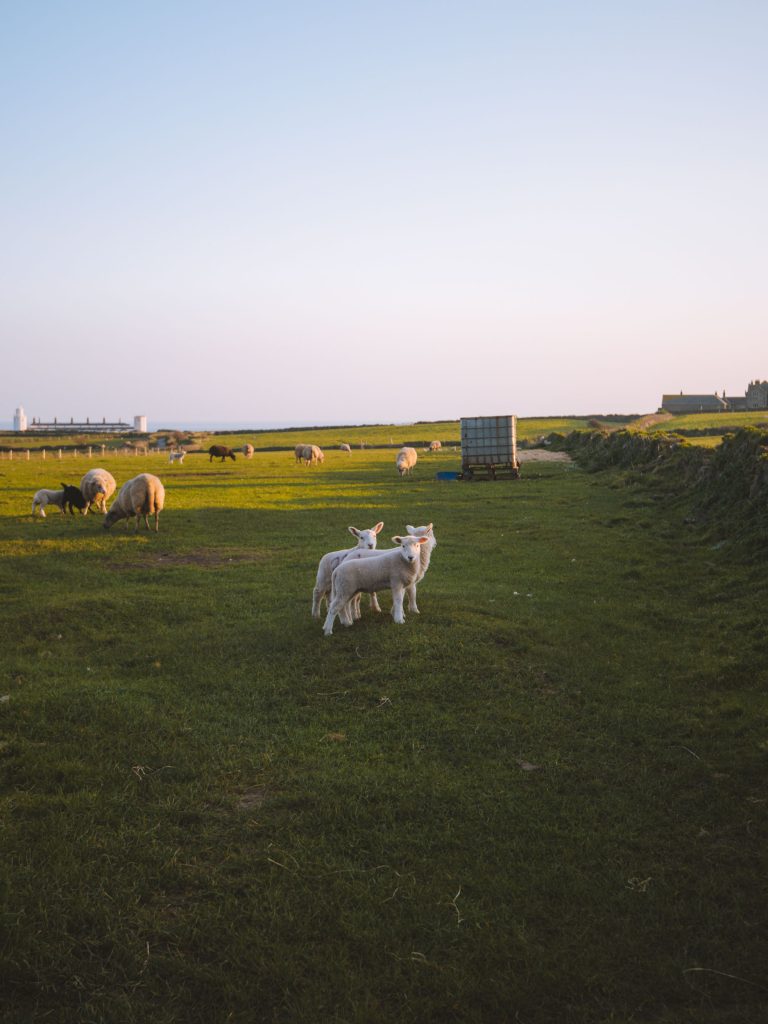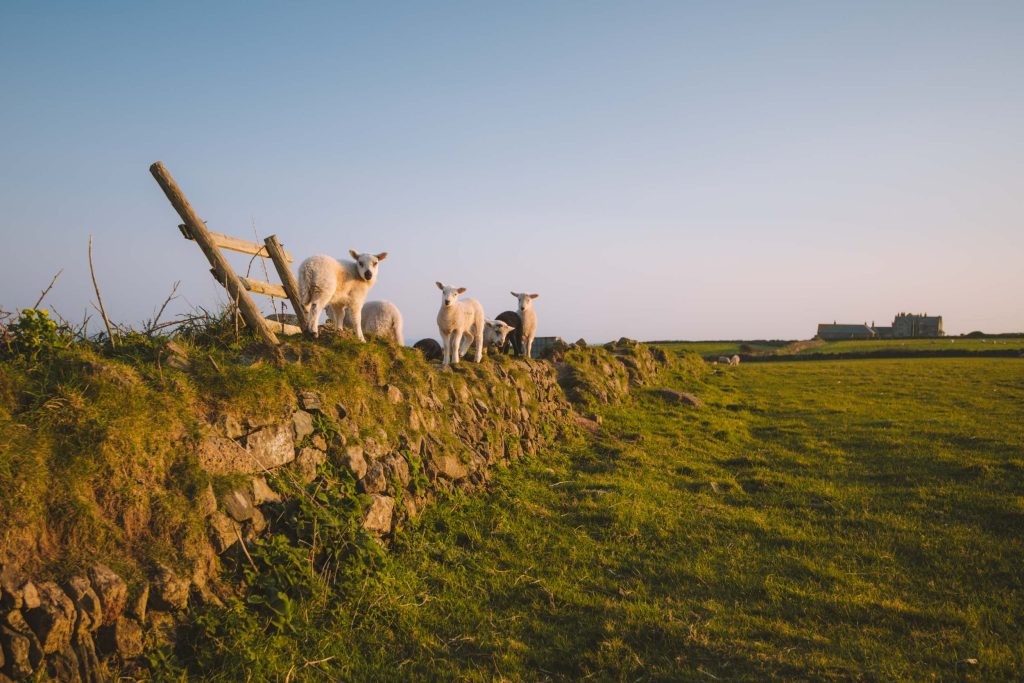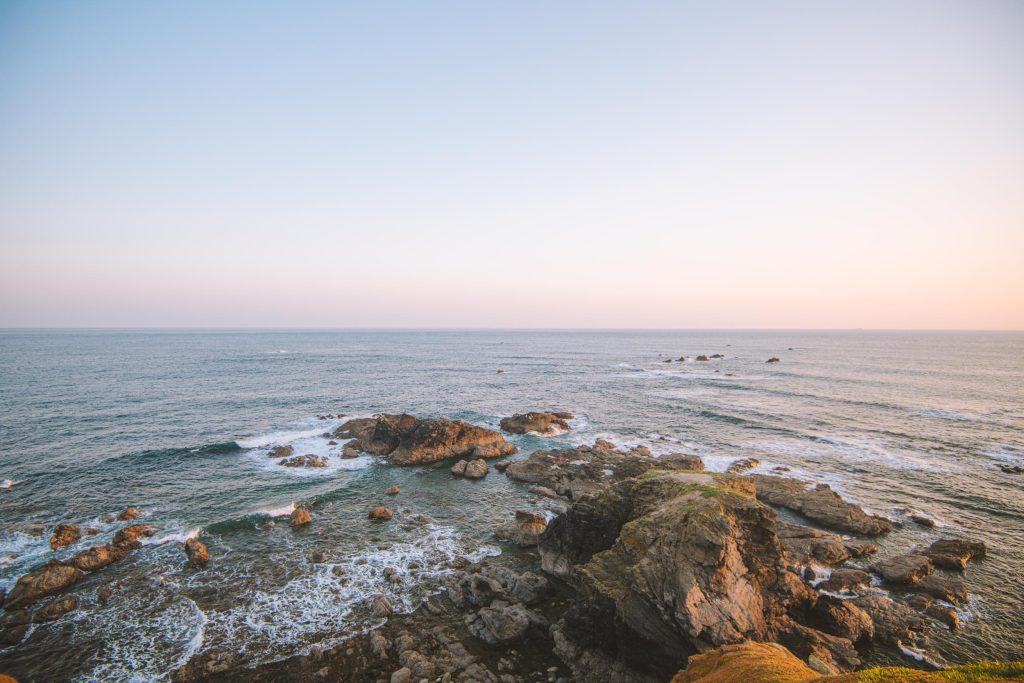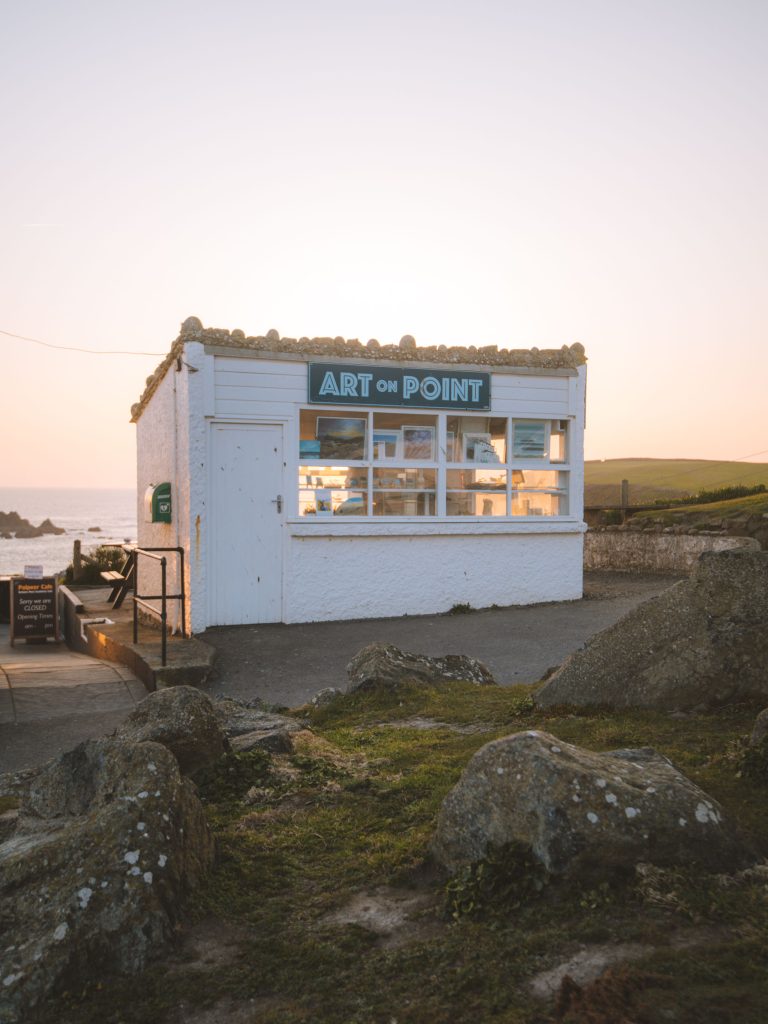 In the evening, we walked to Lizard Point to take in the raw, untamed cliffs and look for seals. Spoiler alert: we found one, but it was too far away for my camera. Don't forget to bring your binoculars! We were so lucky with the number of sunsets we had on our Cornwall trip, especially because it was April and England is not known for its dry weather.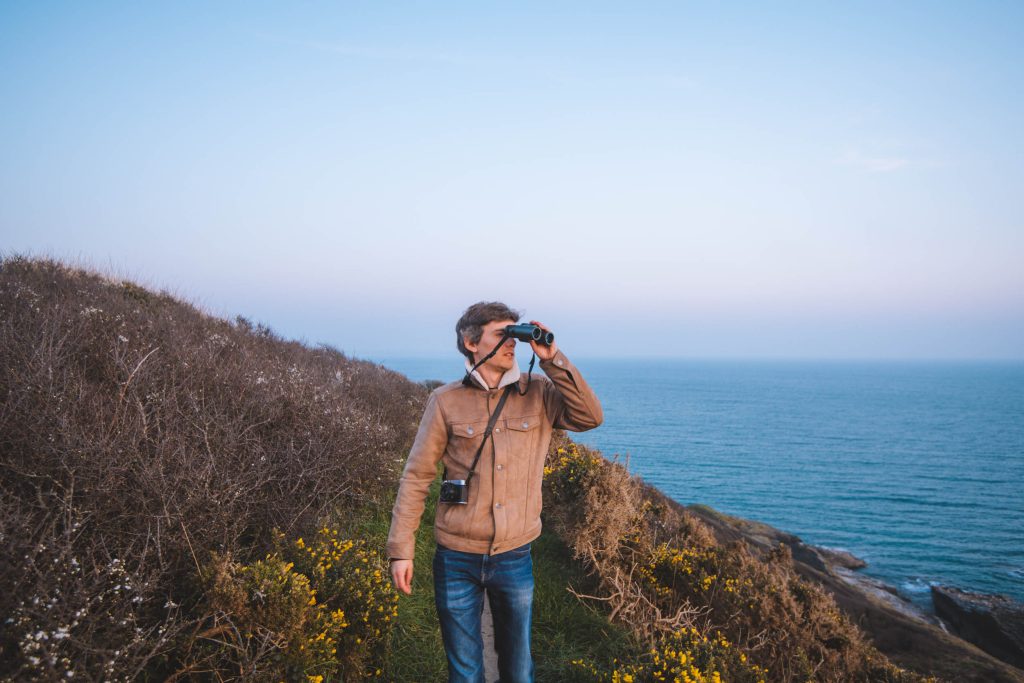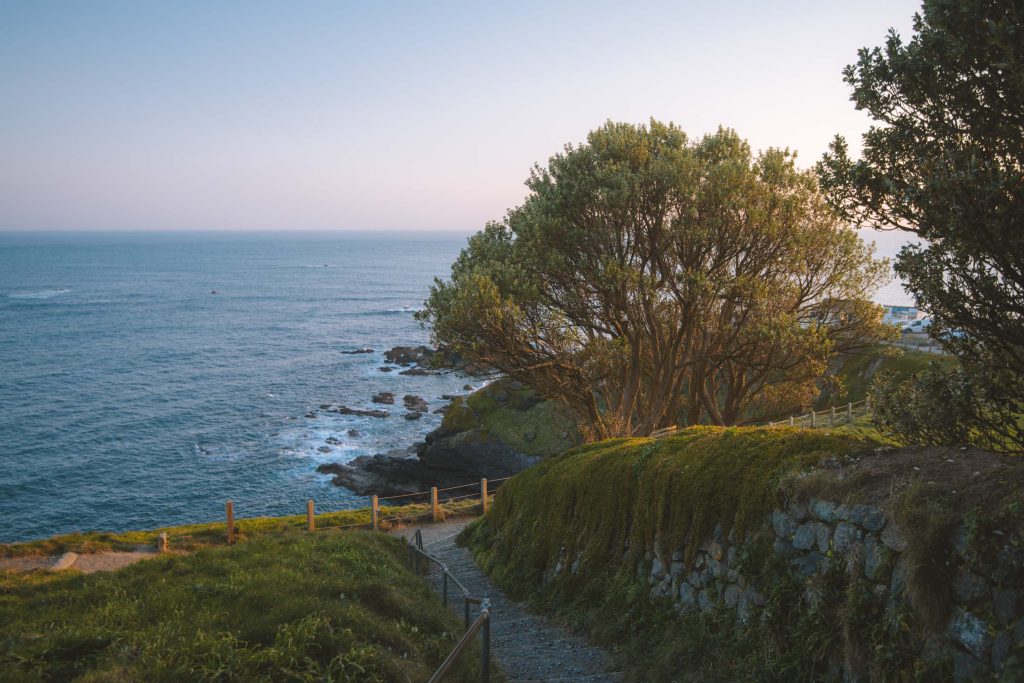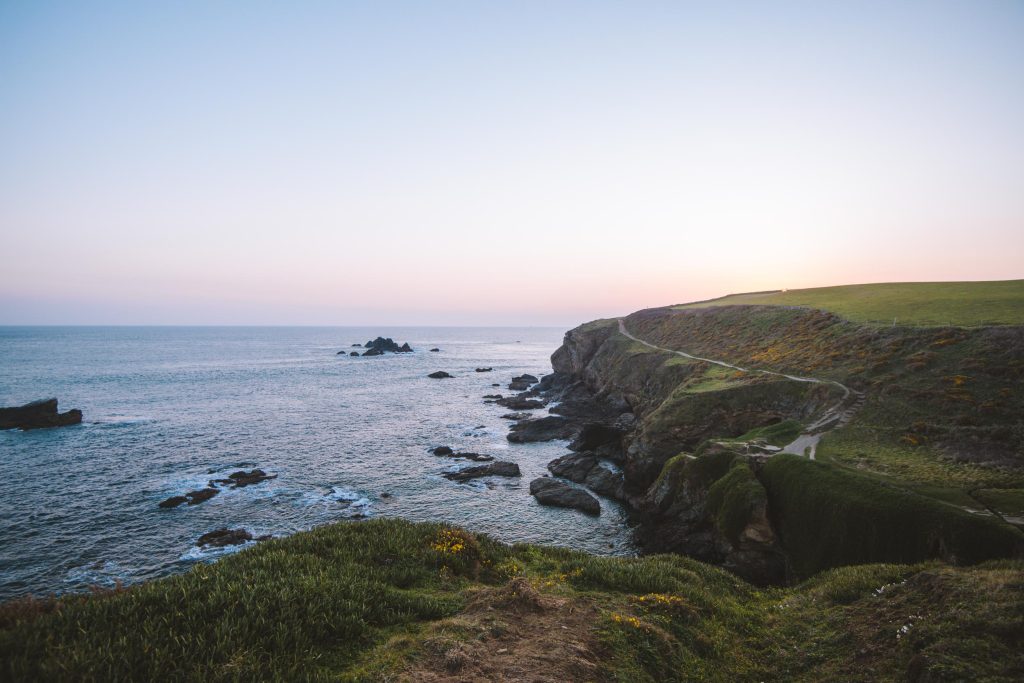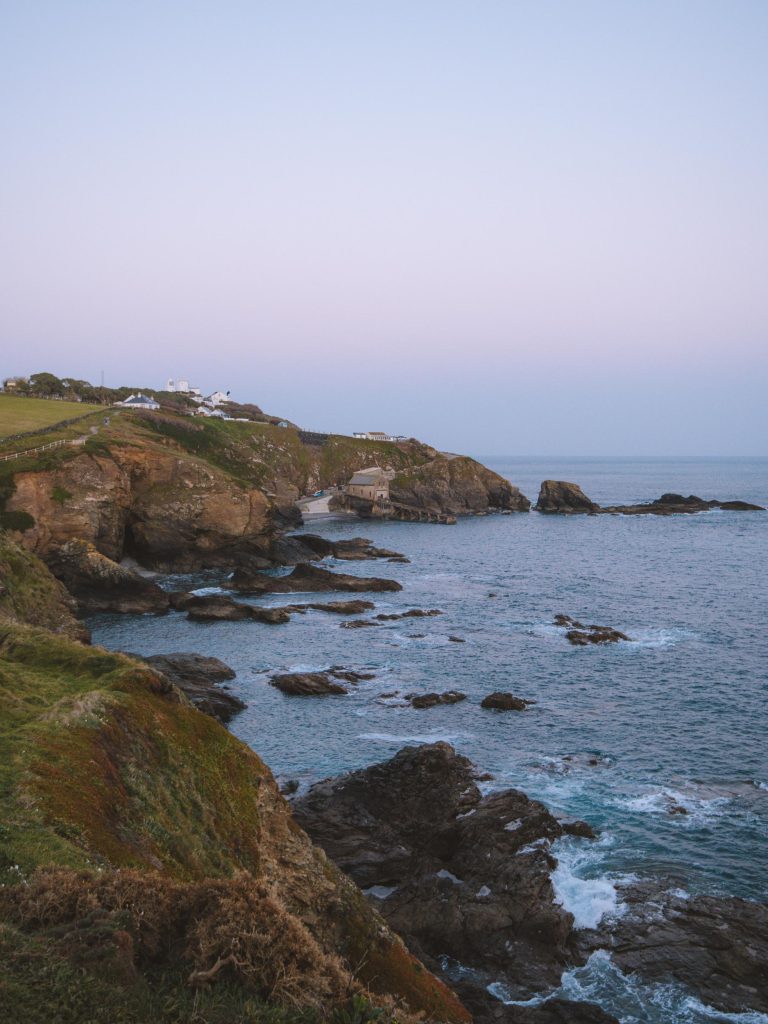 Henry's campsite is perfectly situated on the Peninsula, making it easy to walk everywhere. So the next morning, we hiked a small part of the South West Coast Path to Kynance Cove, a 6,5 km roundtrip.
When visiting Cornwall, you should always check the tides when visiting beaches and coves because this can make or break your visit. We went to Kynance Cove during high tide, and it was very beautiful, but it's at low tide that this inlet shows its true beauty.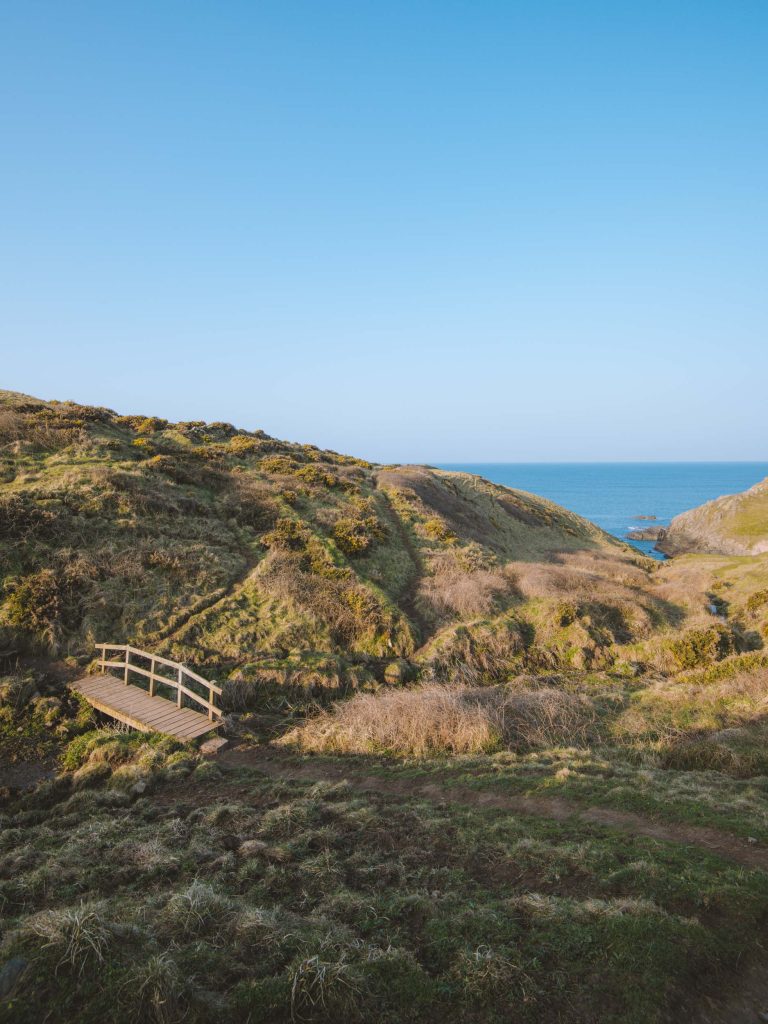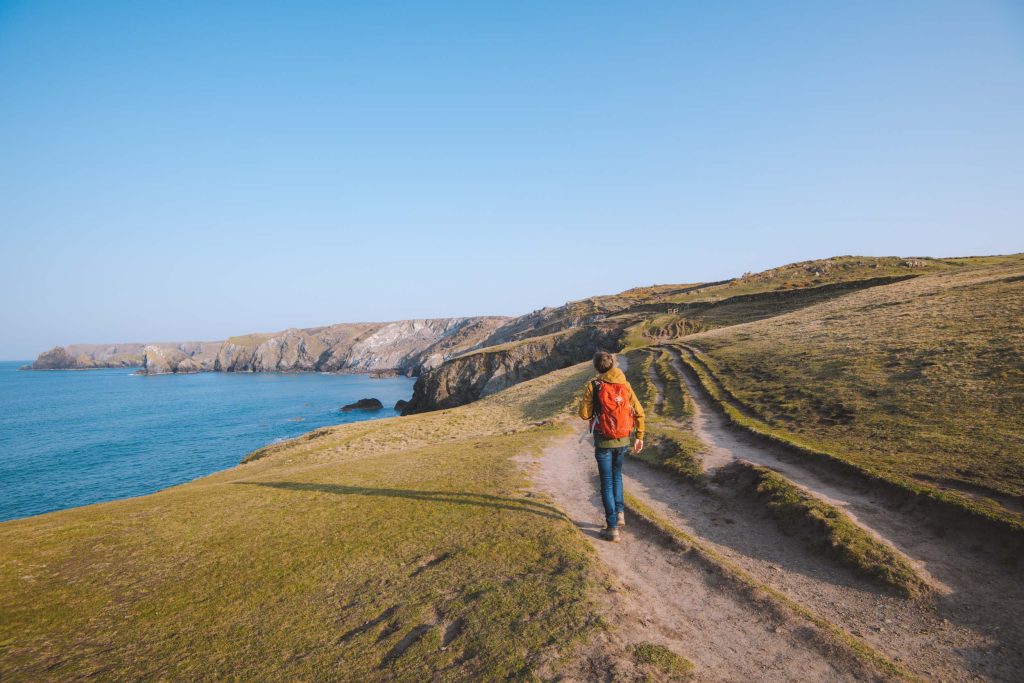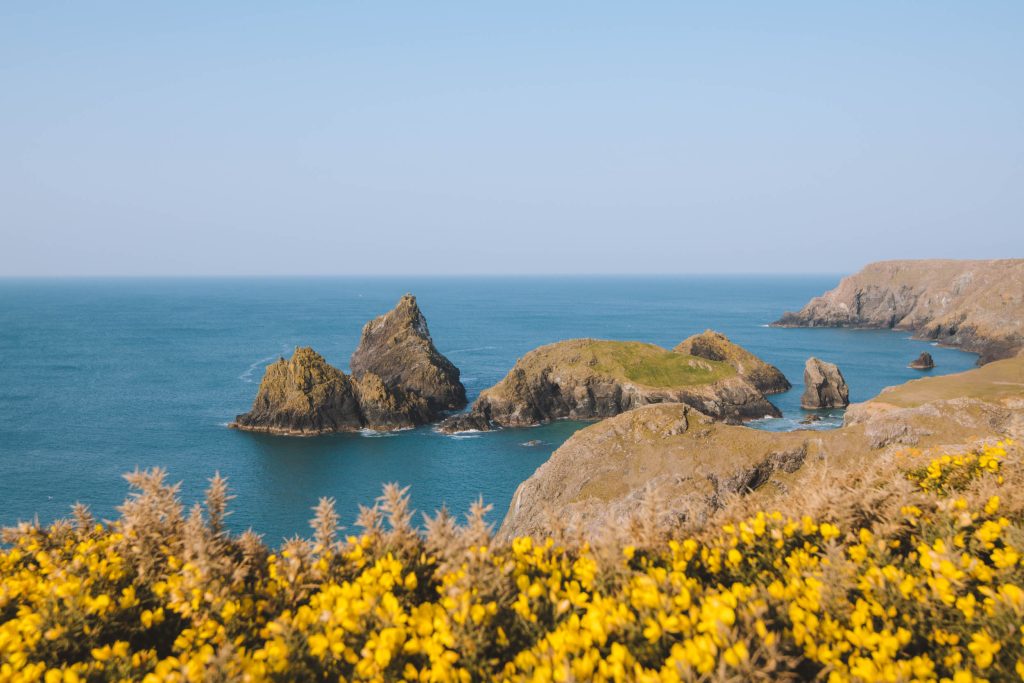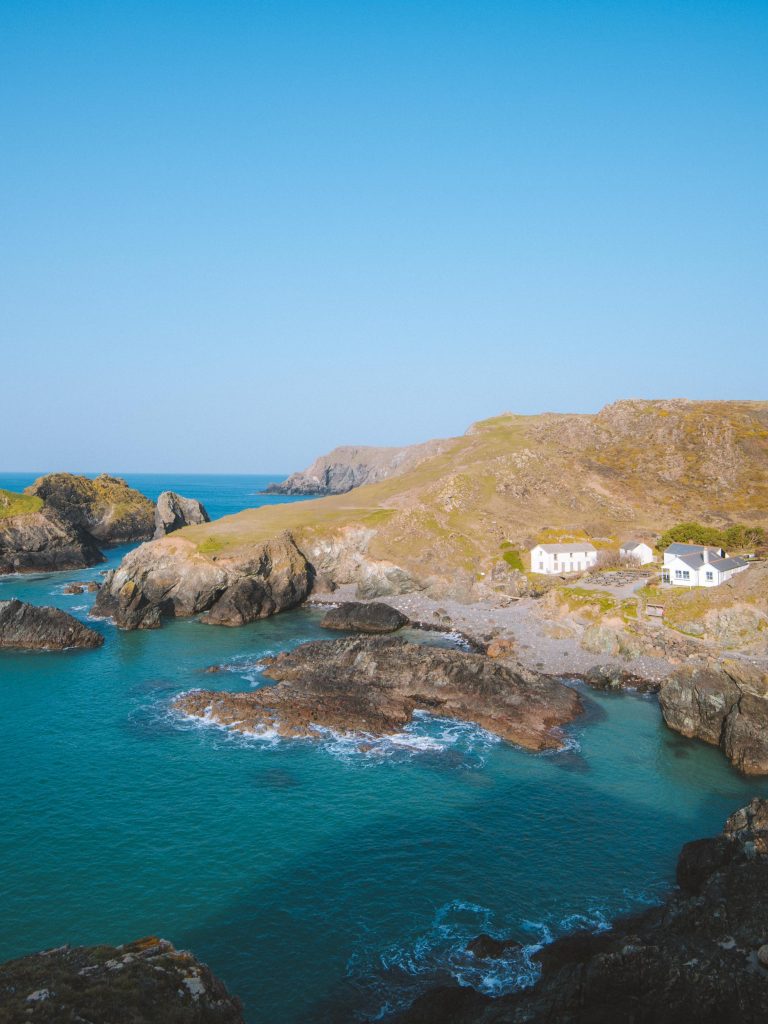 Secluded Coves in Cornwall
This was an impulsive decision but not one we regret. Prussia Cove is a series of coves and very secluded and romantic. If you want to escape the crowds, I suggest coming here. Although there's no actual beach, and it's pretty rocky, we didn't mind.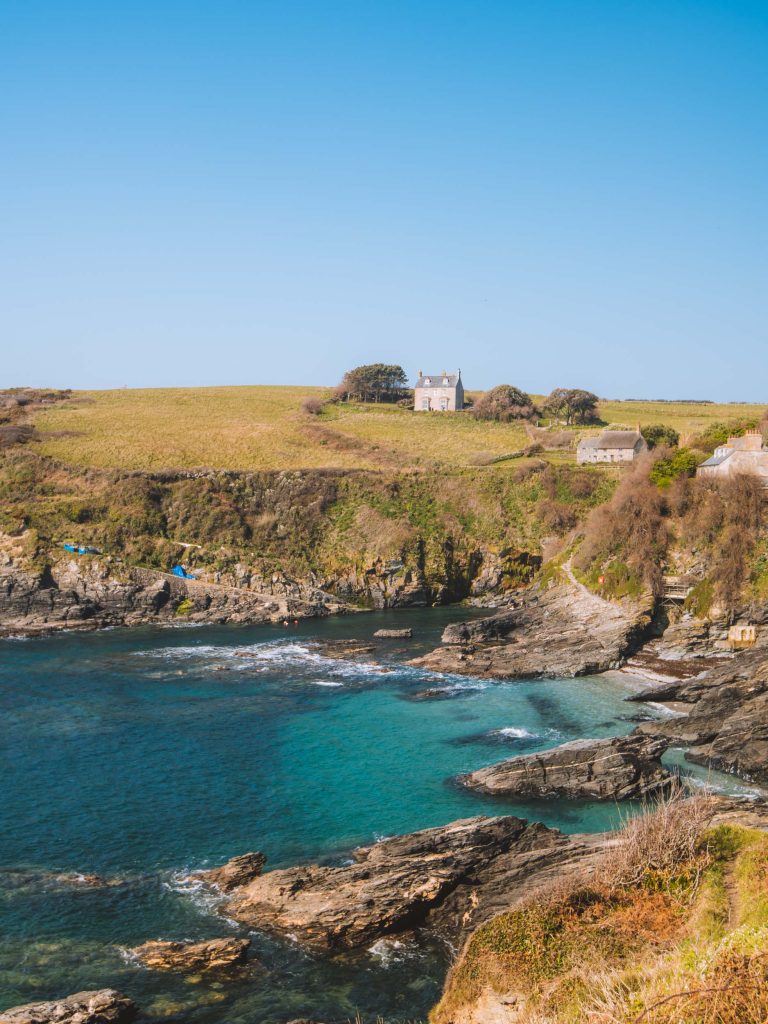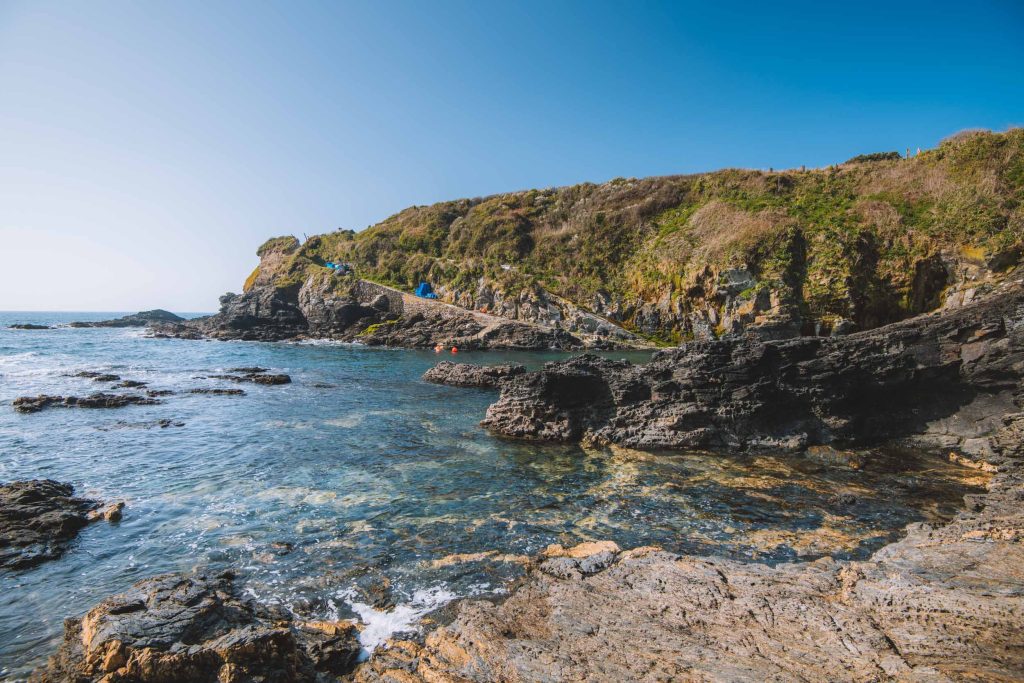 Cornwall's Artistic Heart – St-Ives
If you are short on time and have to choose between all the charming towns, do yourself a favor and visit St-Ives, the artistic heart of Cornwall. You can walk along the numerous galleries, visit the Tate to soak up some art, or join a creative workshop.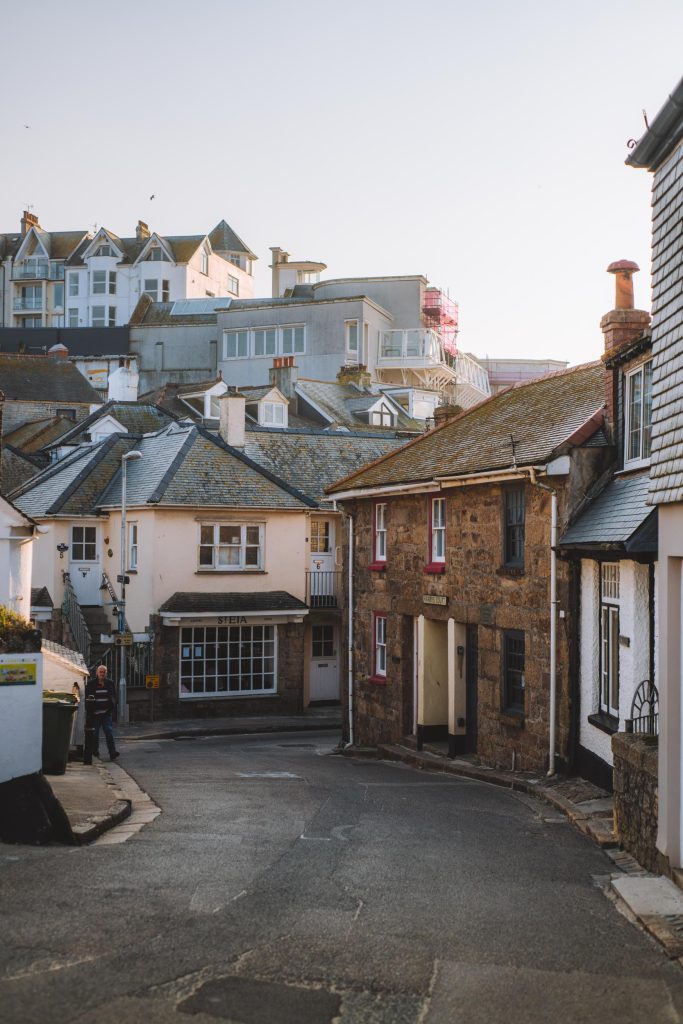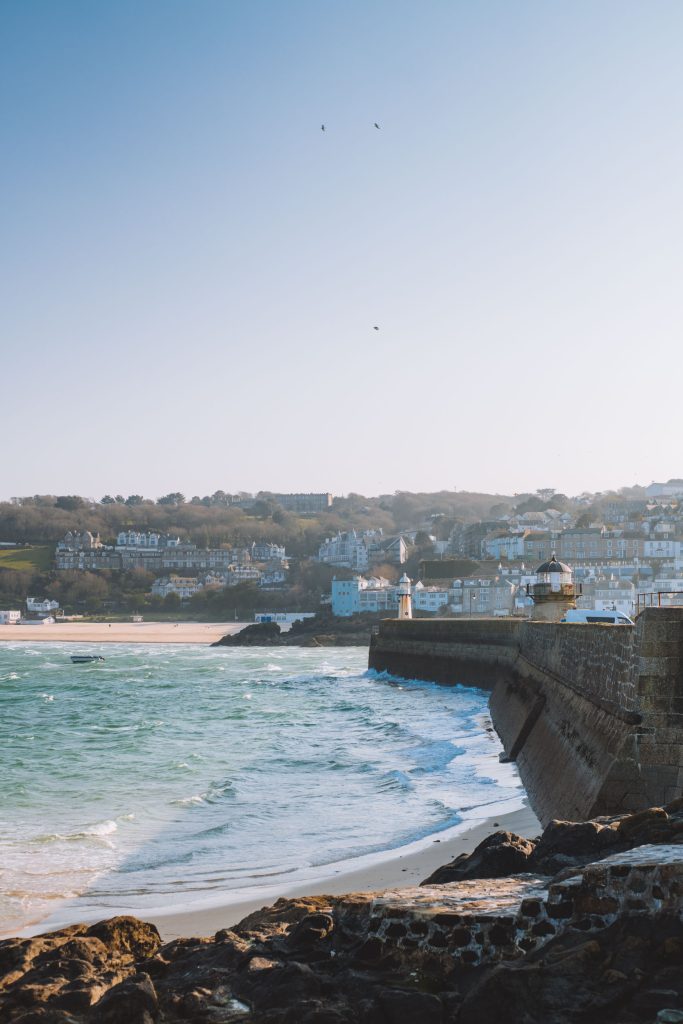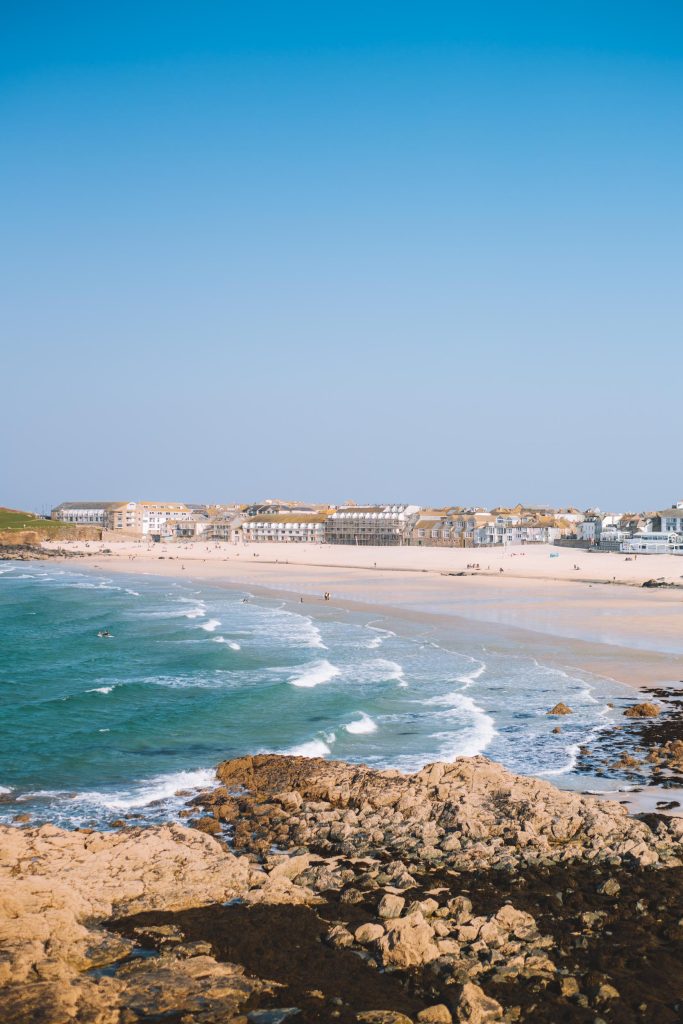 If you're more of a beach bum, you'll have plenty of choices here. St-Ives has six beaches to enjoy. To find out which beach is perfect for you, I recommend doing a Google search, and you'll find plenty of articles about the different beaches. We managed, quite by accident, to visit five of them.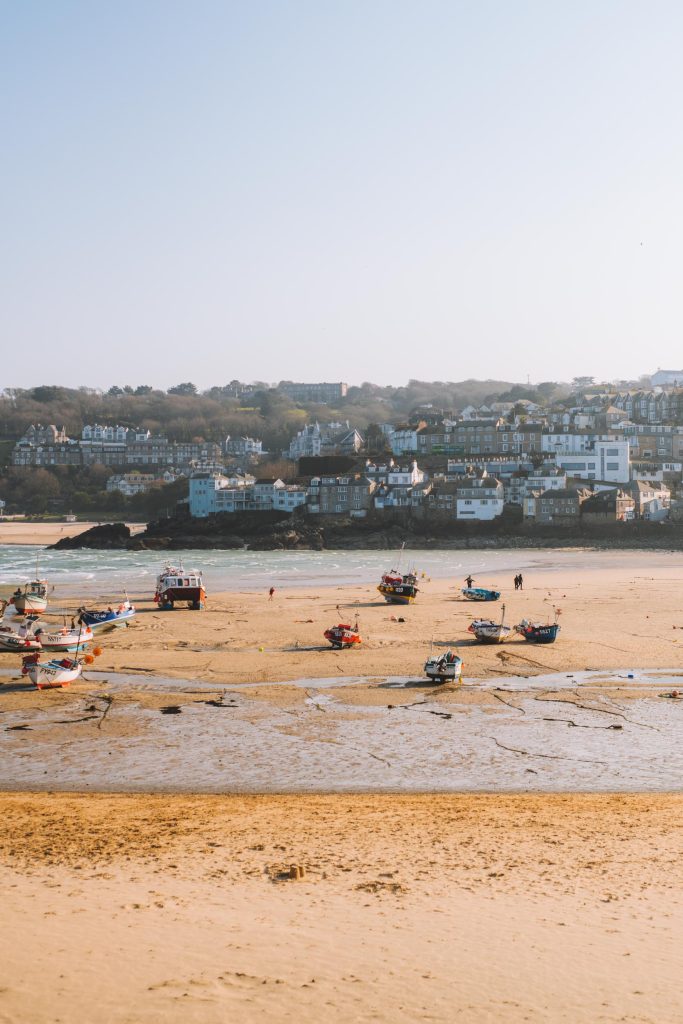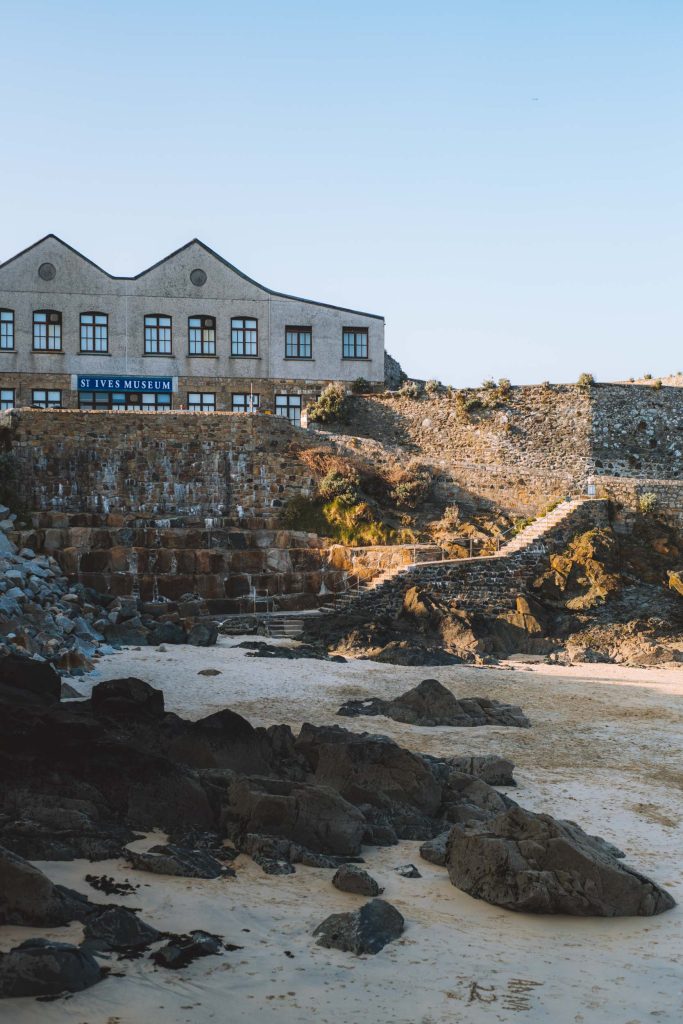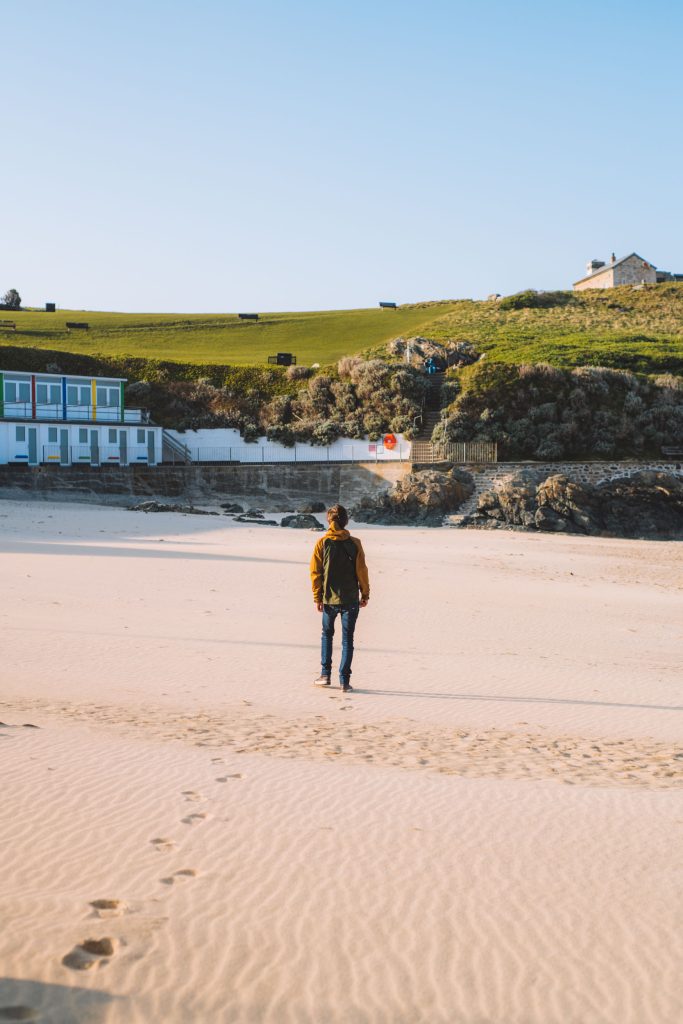 We walked from Harbour beach to Bamaluz, the secret beach because it disappears during high tide. And then on to Porthgwidden beach. Porthmeor beach is on the other side of St-Ives and is best suited for families. Porthmeor received the Blue Flag Award in 2022, recognizing water quality, safety, facilities, environmental management, and education.
Bedruthan Steps
Unfortunately, because of a rockfall in 2020 and 2021, the steps to Bedruthan Beach were closed. For more information, you should visit the National Trust website.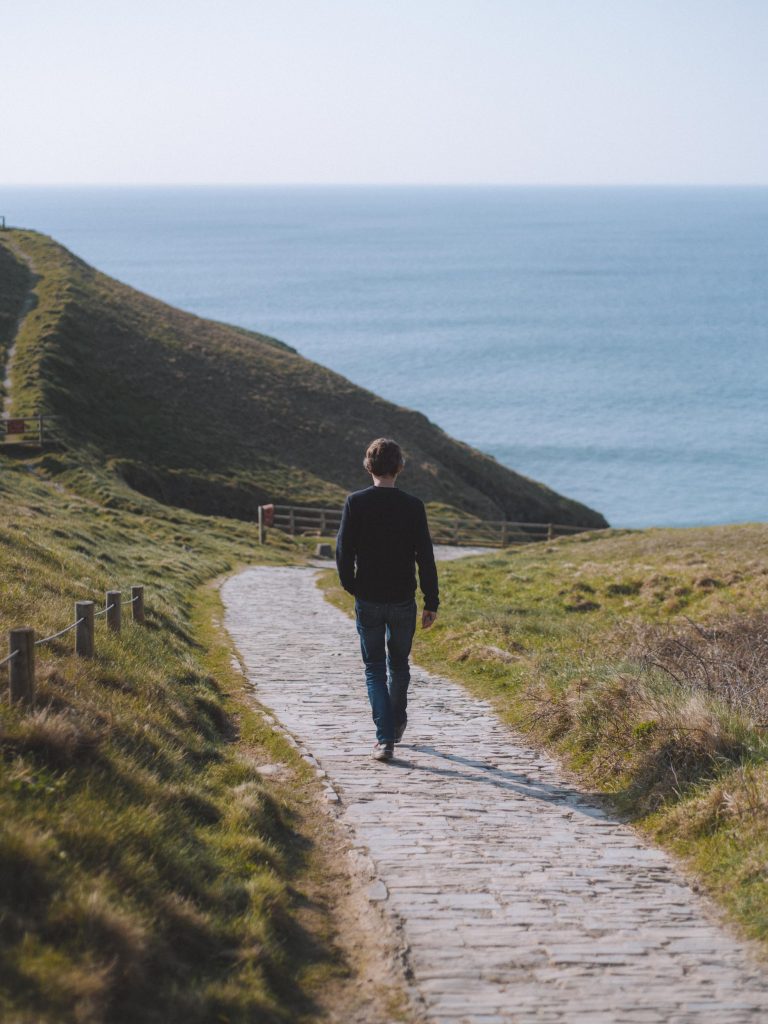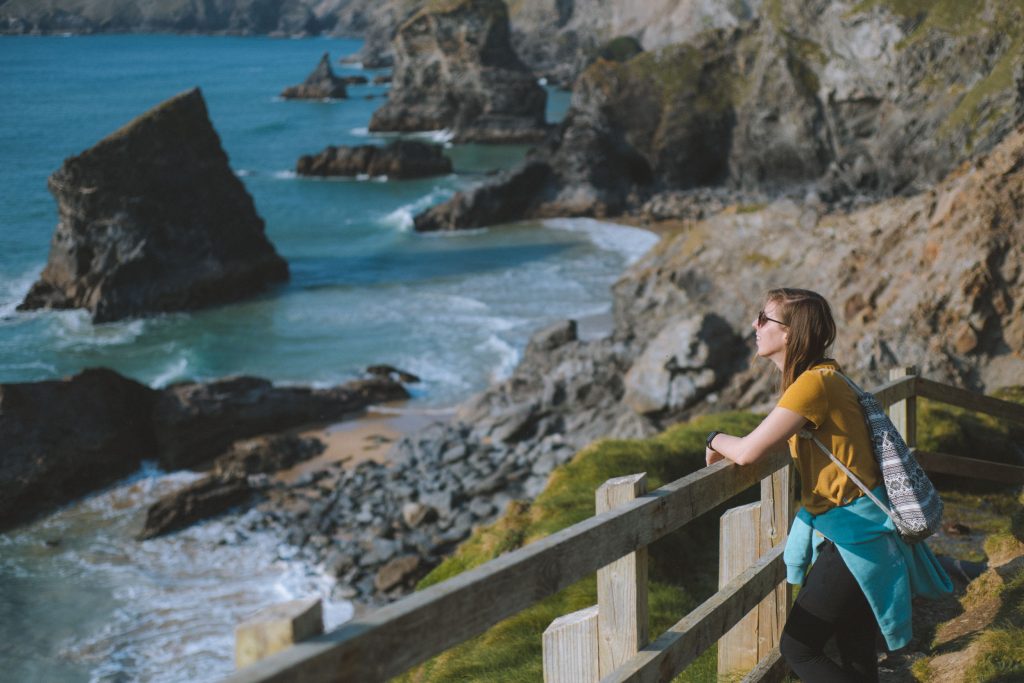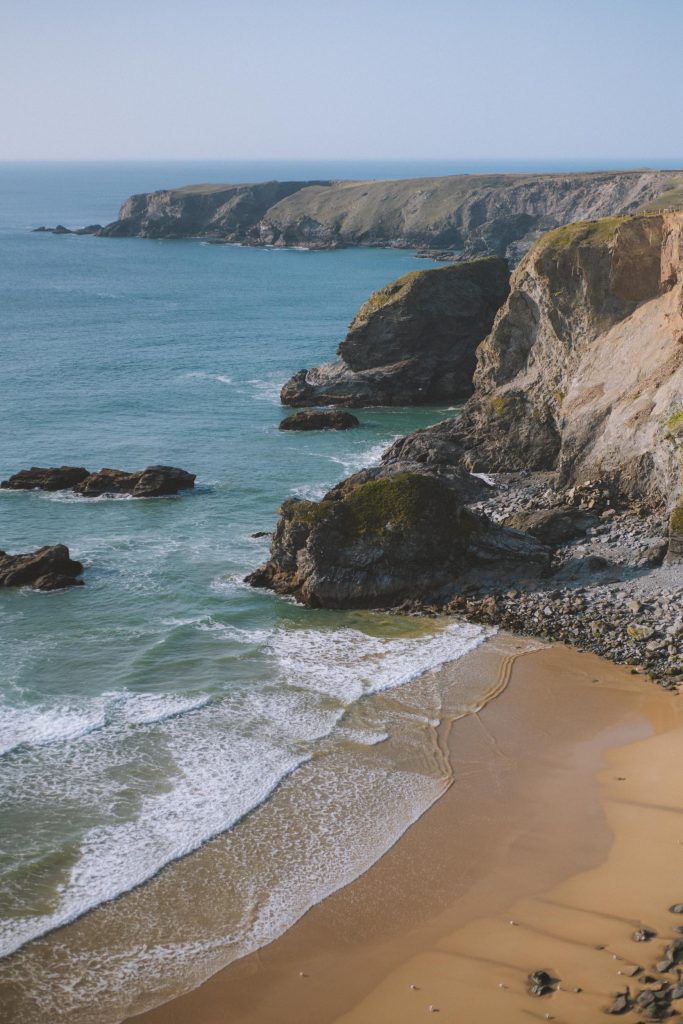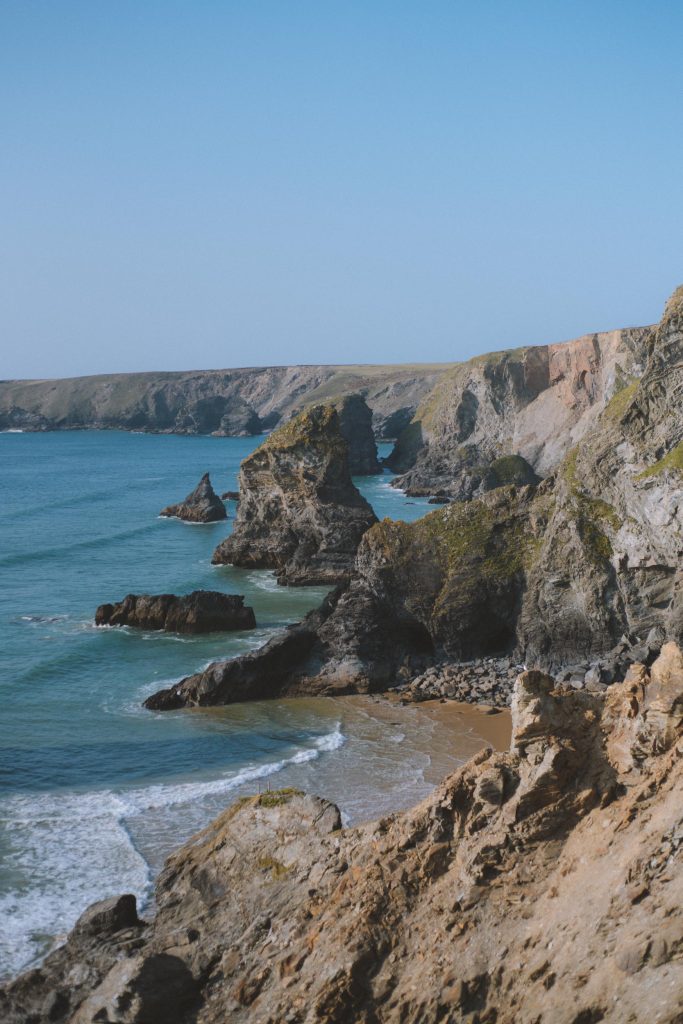 Even though you cannot visit the beach, you can still walk along the cliffs and take photos from above. The view is magnificent! It even looks a bit like the 12 Apostles in Australia. It's the perfect place to watch the sunset. I would love to come back someday to go down to the beach.
A Grey Day at Treyarnon Bay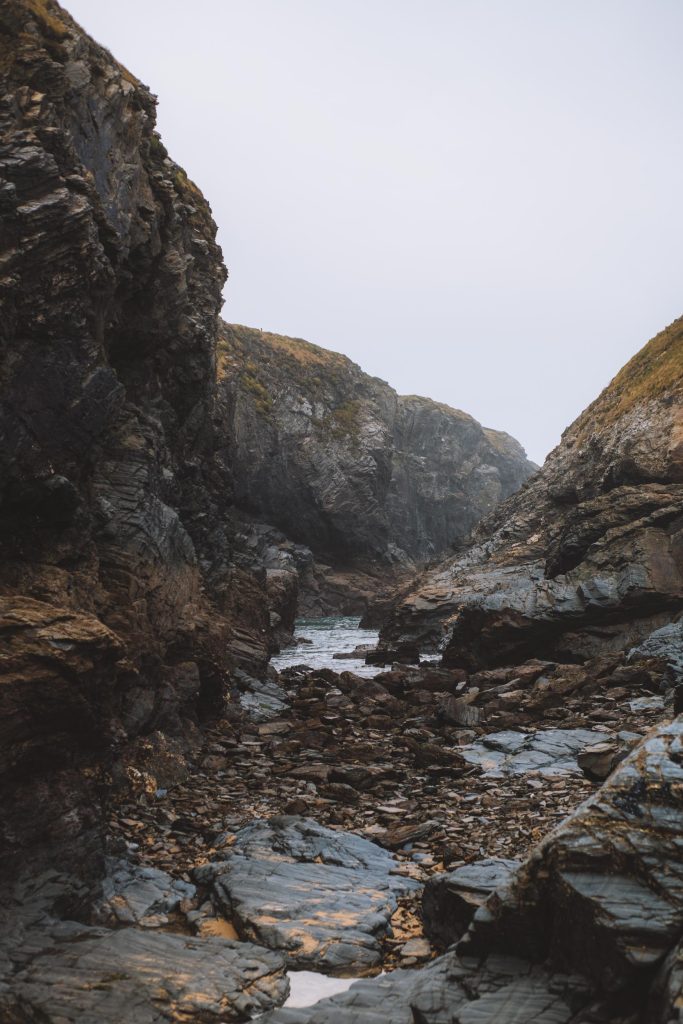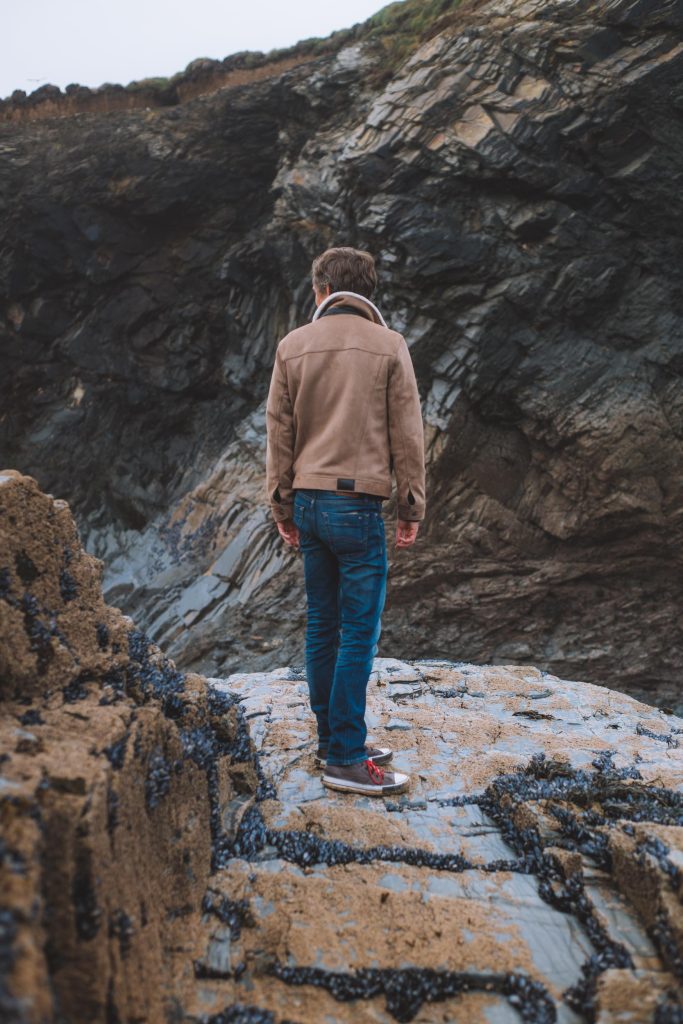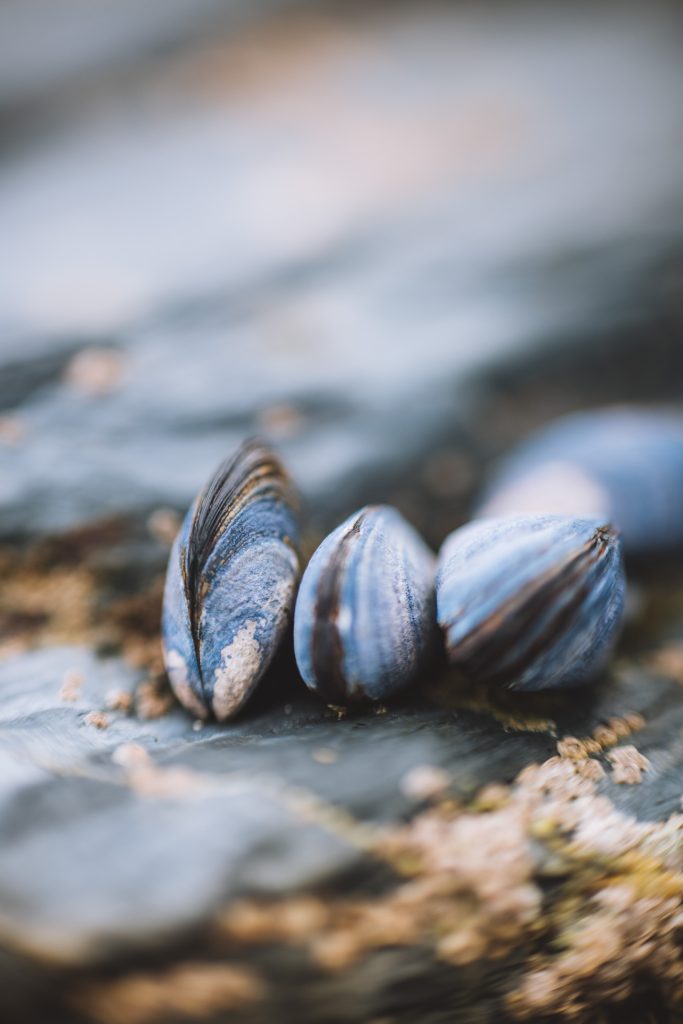 On our first cloudy day in 10 days, we visited the tidal pool at Treyarnon Bay. There are numerous tidal pools dotted along the coast of Cornwall if you fancy a plunge in the sea. Because the tide was coming in (yes, we were beaten by the tide, again), the tidal pool was quite unreachable, so I found another spot to take a dip in the ocean. So refreshing! I LOVE swimming in cold water. I'll make a post about that too later in the year.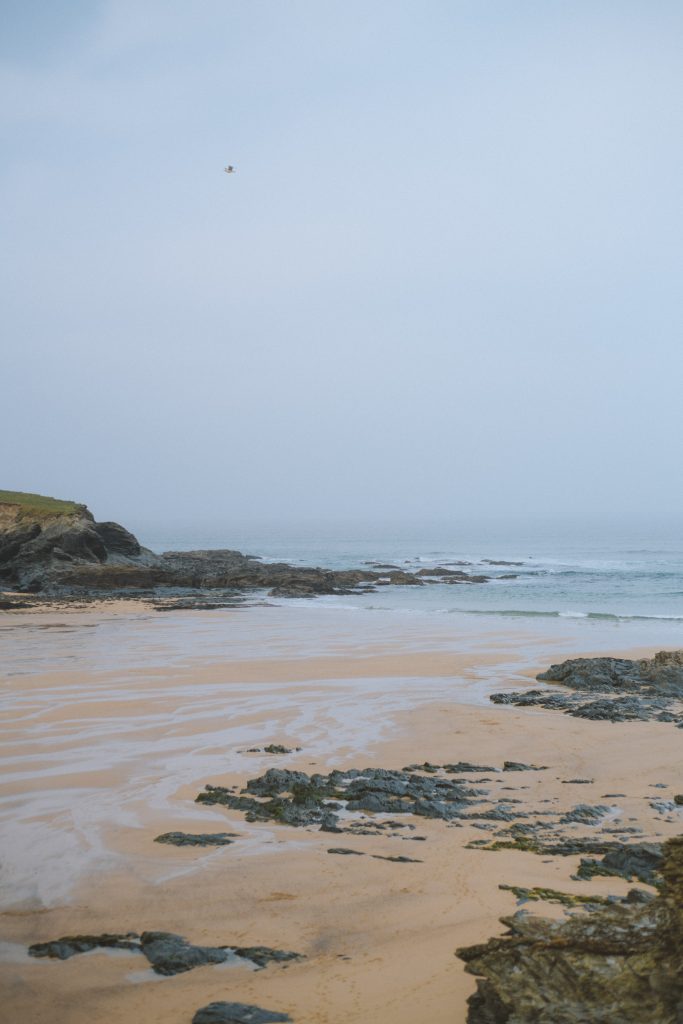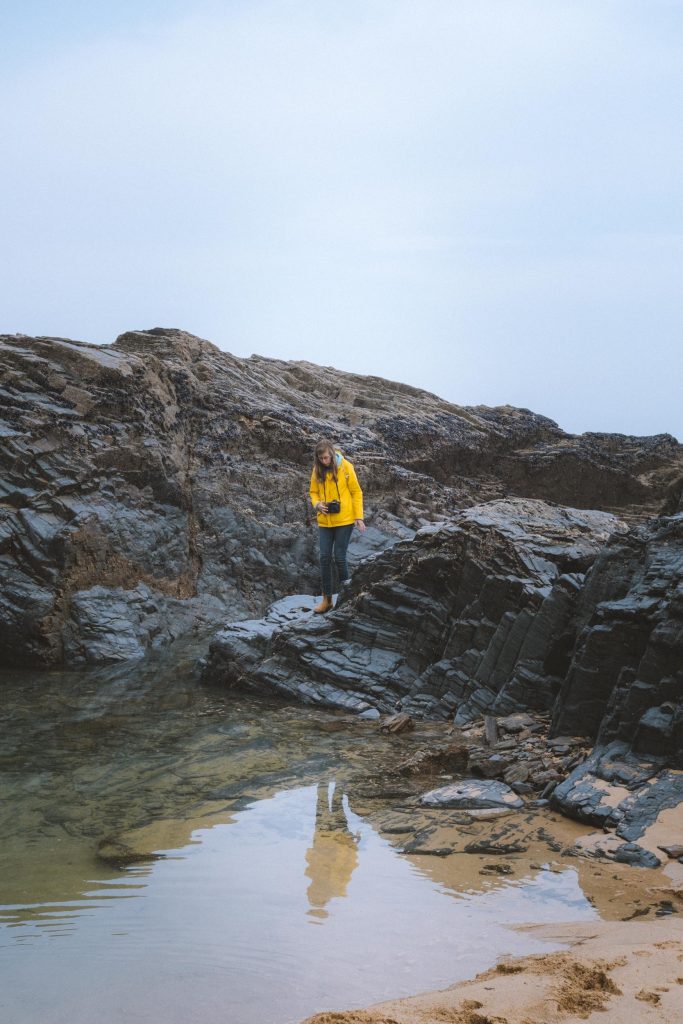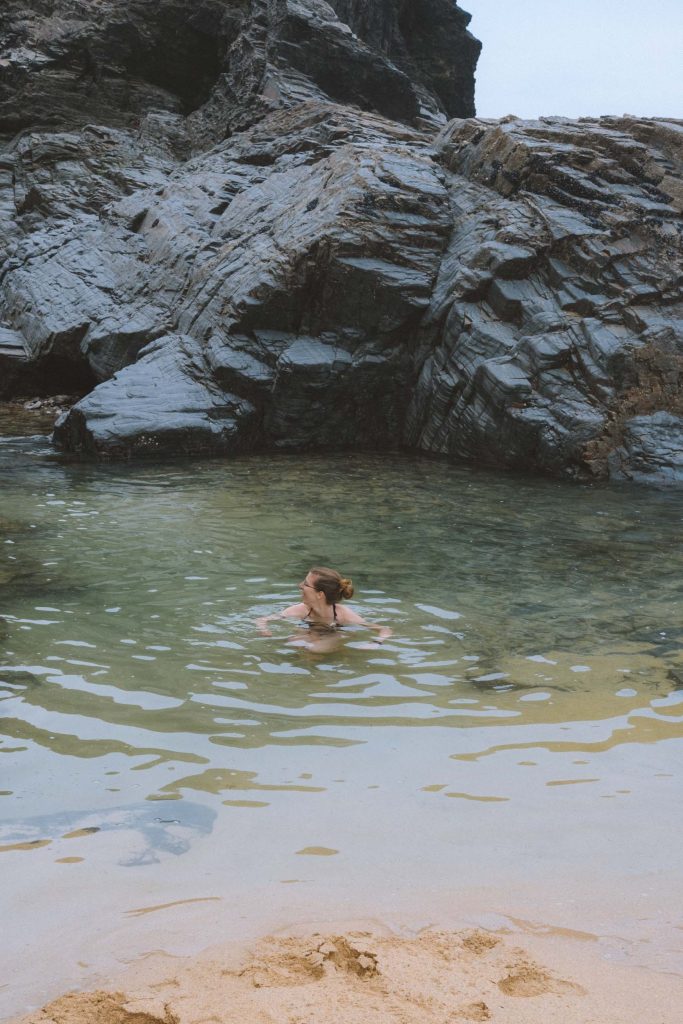 Cornish Treats in Padstow
Our last stop in Cornwall was Padstow, the foodie capital of Cornwall. We had yet to enjoy some Cornish treats, so we meandered the streets of Padstow looking for scones and Cornish pasties. Which we found at Cherry Trees Coffee House and The Cornish Bakery.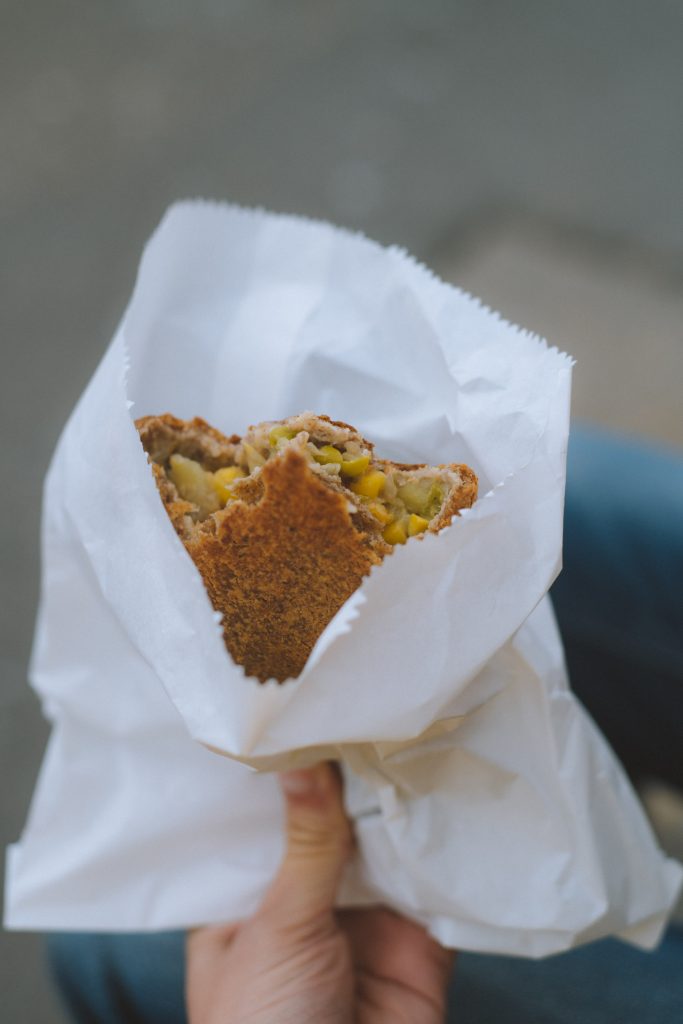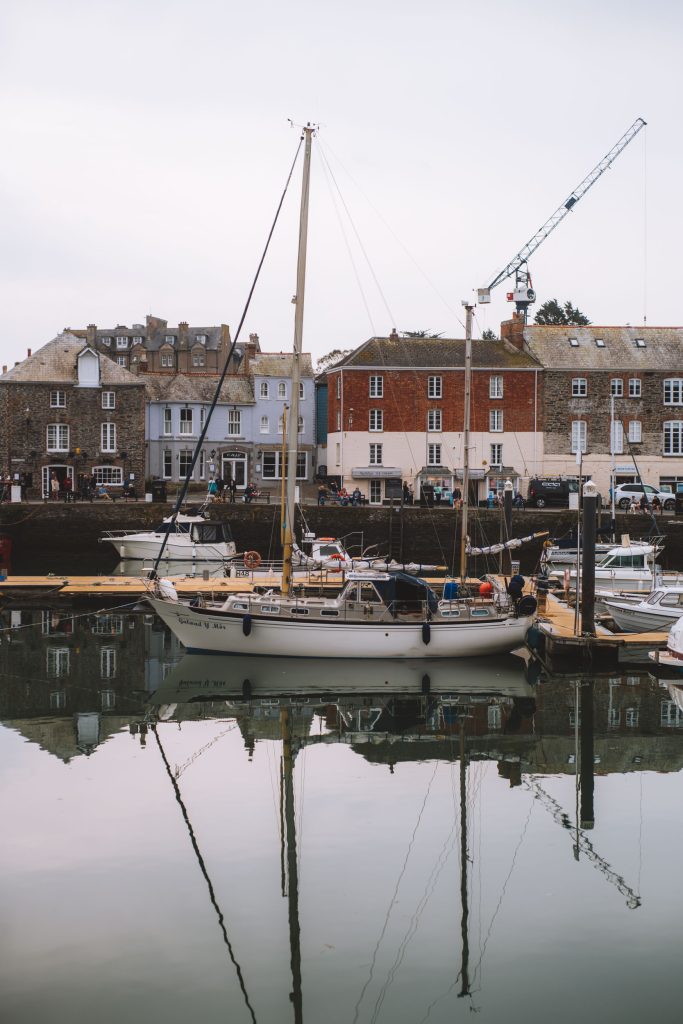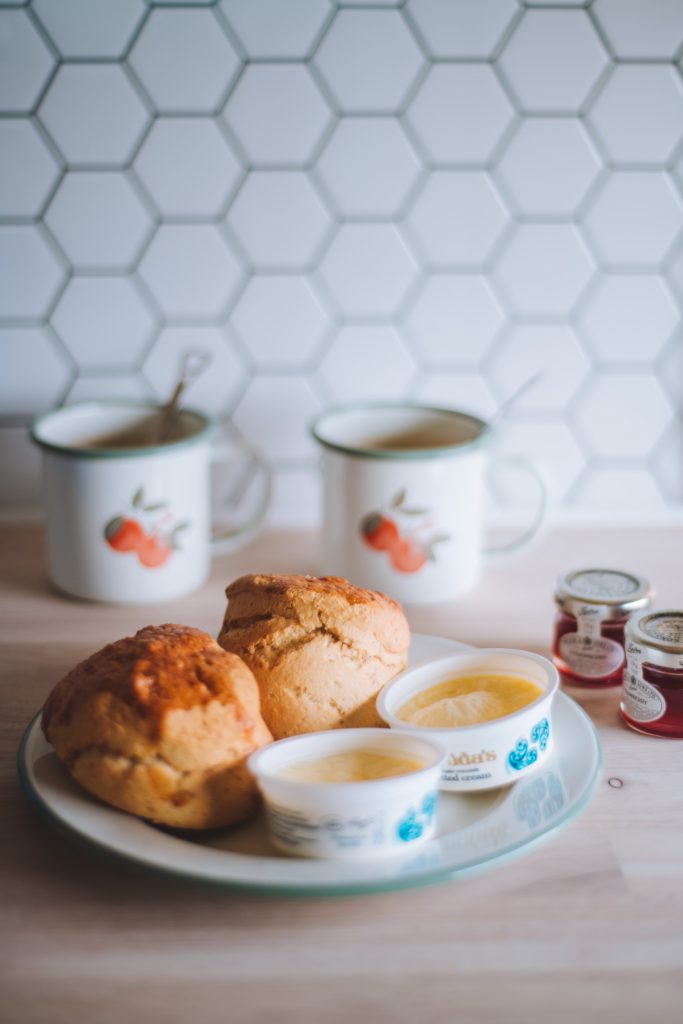 We took our pasties to go and enjoyed sitting on a bench in front of the harbor, watching the boats go by and tourists getting bothered by seagulls wanting to steal their food. We also saw several people with a line and a bucket fishing for crabs, so that must be something you can also do here.
We had a blast visiting the beaches, coves, and charming villages! Have you been to Cornwall? Tell me about your favorite spots!
Like this blog post? Pin it to save for later!