We've made it a yearly tradition to stay at a cabin or tiny house (or other cool accommodation we can find) for both our birthdays and found the most charming cabin in Belgium ever!
Meers Cabin is a romantic tiny house at the edge of the domain of Hof ter Heebeke, owned by Krista and her husband, Bernard. Together they have created this wonderful sanctuary; we immediately fell in love!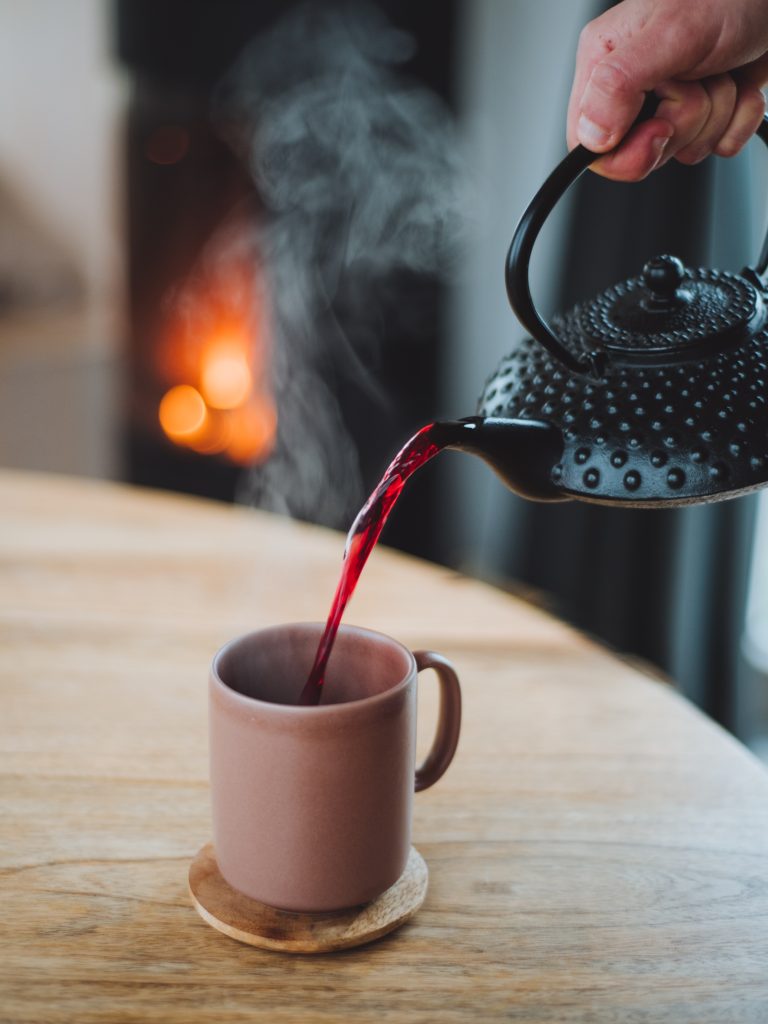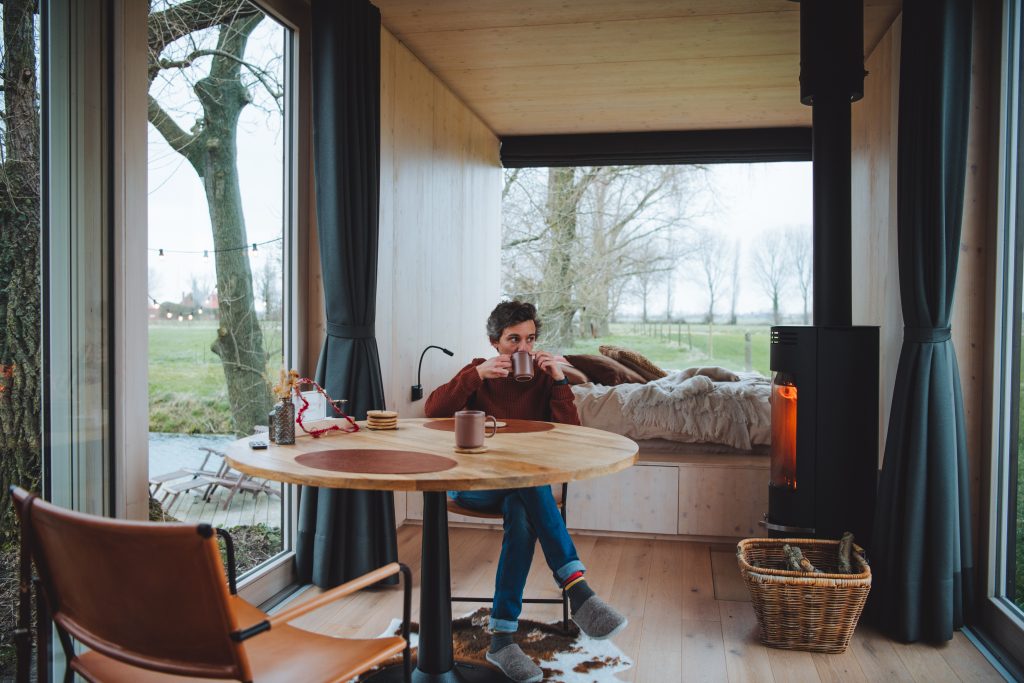 Meers Cabin and Hof ter Heebeke
Next to the cabin is a small pond with a jetty and deck chairs where you can enjoy the sun, read a book, and let the world pass you by. There's also a boat for when you want to have a paddle.
In the evenings, you can cook your dinner on the outdoor stove, weather willing, or use the indoor kitchen. It was mid-winter when we visited so we stayed inside, where you can also watch the world pass you by. Because there are windows on every side, you have a 360° view of your surroundings. Talk about being immersed in nature.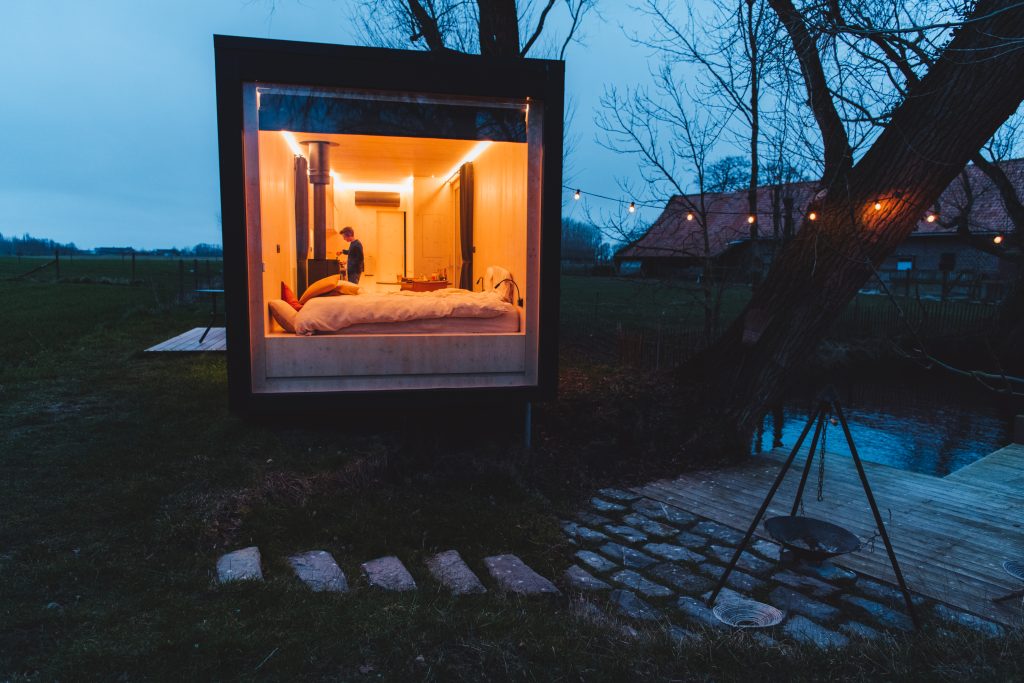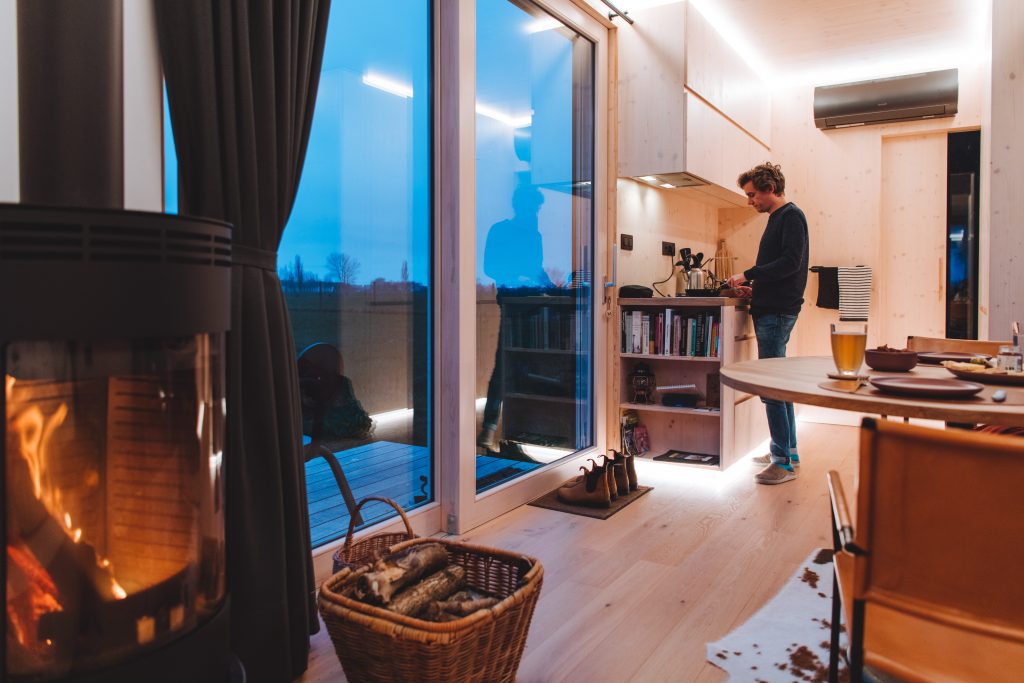 If you're an animal lover like me, you'll be overjoyed to know that Hof ter Heebeke is an animal kingdom! They have chickens, sheep, goats, horses, a cat (or two?), a dog, and even a donkey! You can watch the sheep graze while you do your thing on the toilet or shower because there's a massive window in the bathroom. Don't worry; the animals won't see you! The window is mirrored glass, which lets you see outside but not the other way around.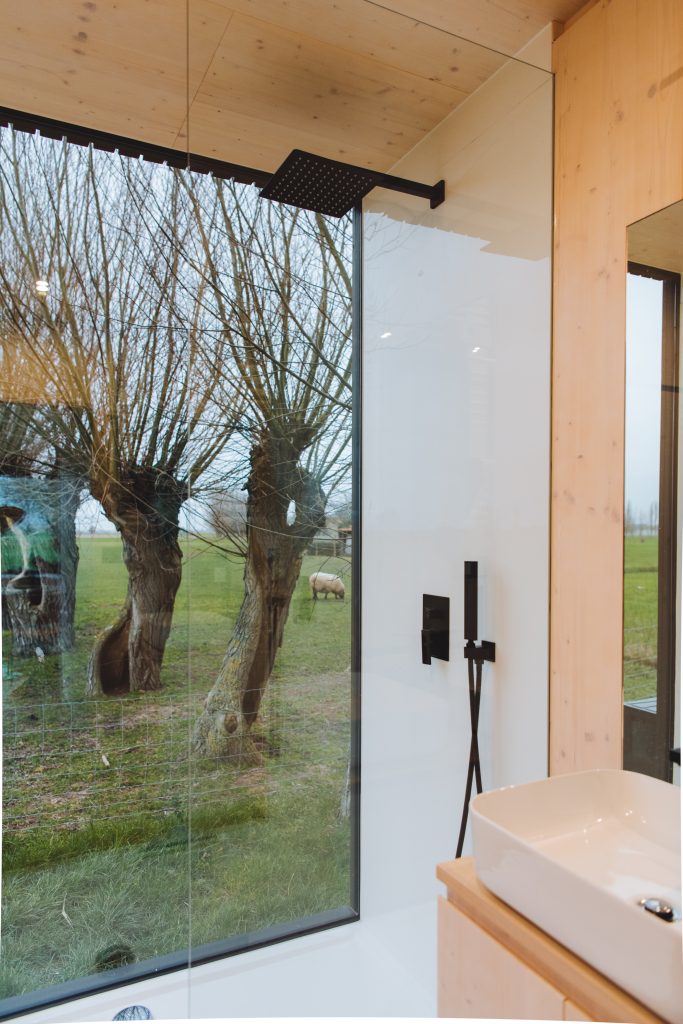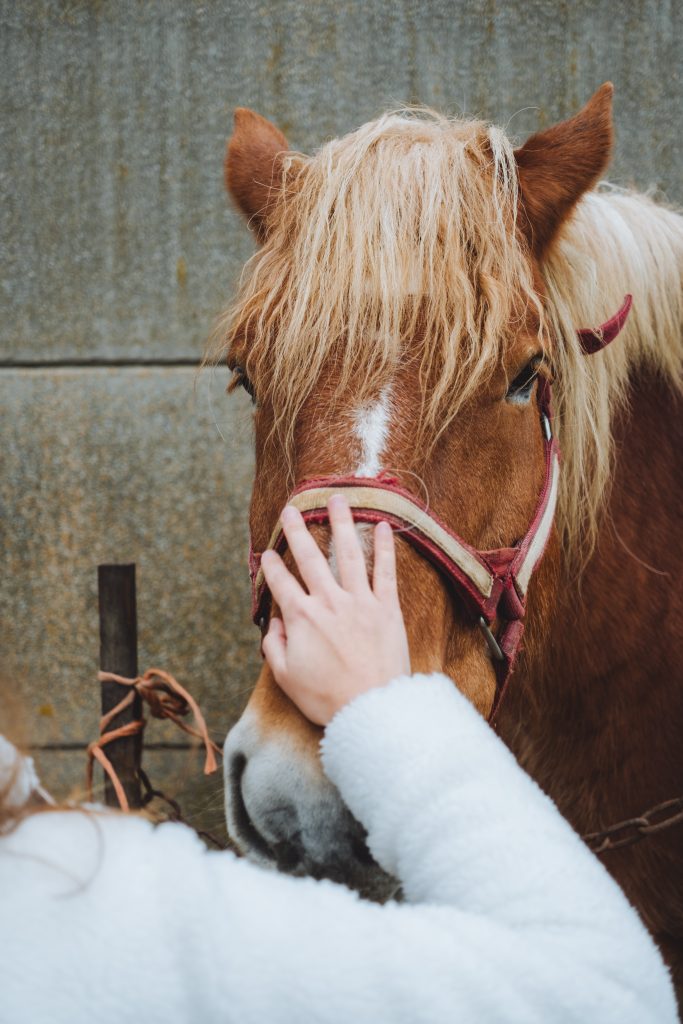 If you like homemade bread for breakfast, order some from Bernard and leave your payment (€7 for two pastries, two bread rolls, and delicious bread) in the Honesty box at the Oven house. This is also where you'll find your bread package in the morning.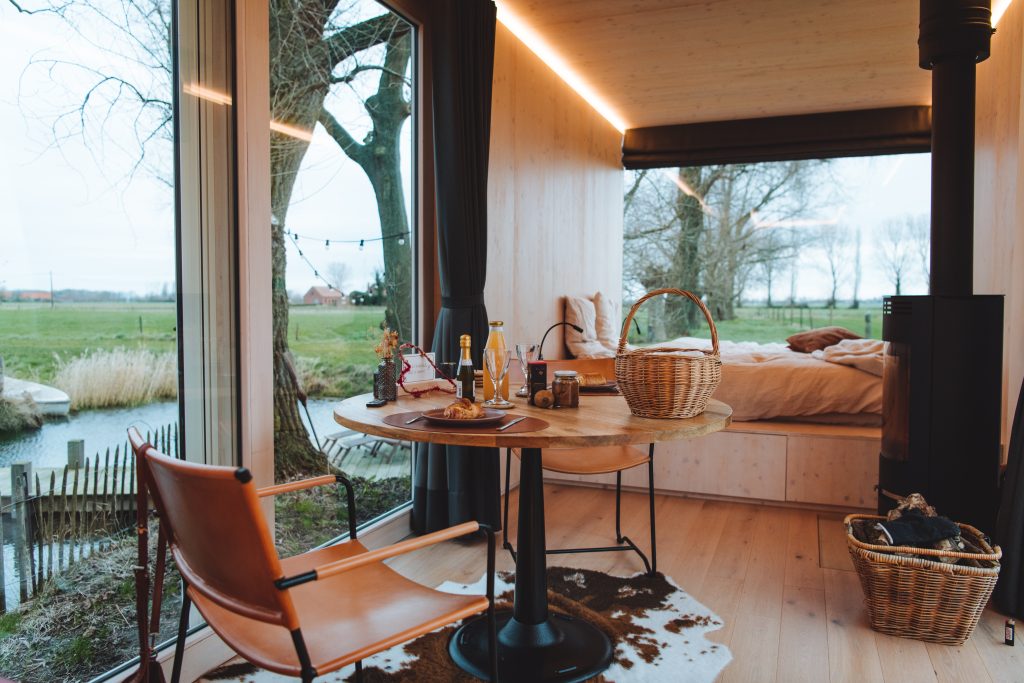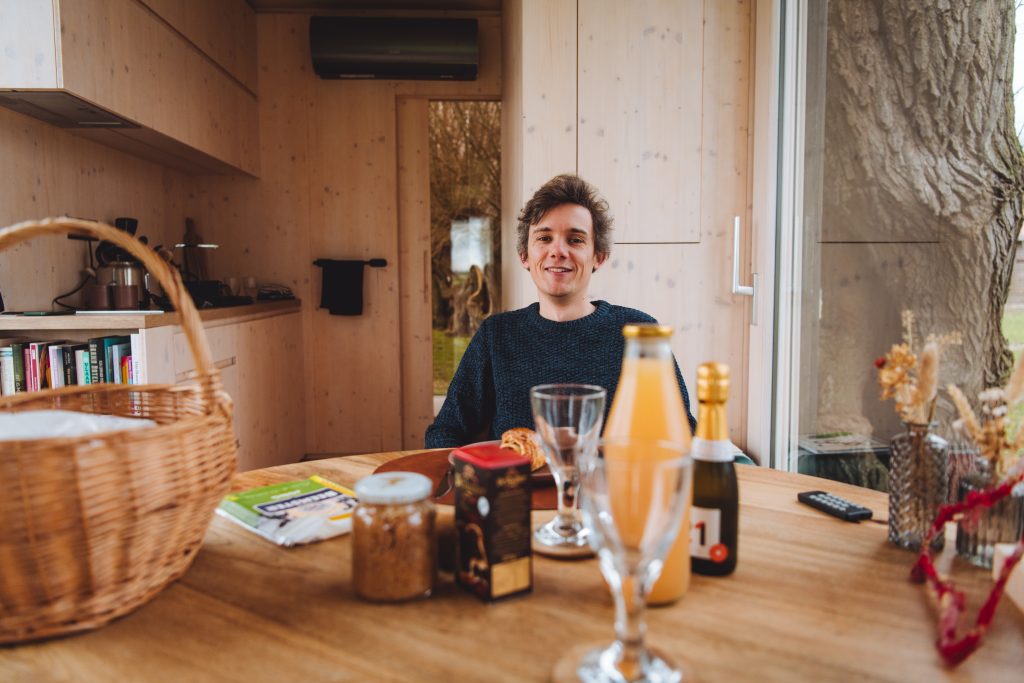 The cherry on top is the swimming pond with a view of the grazing animals. Even though we stayed in the Winter, I couldn't resist a dip in the pond. You know me, a polar bear in heart and soul!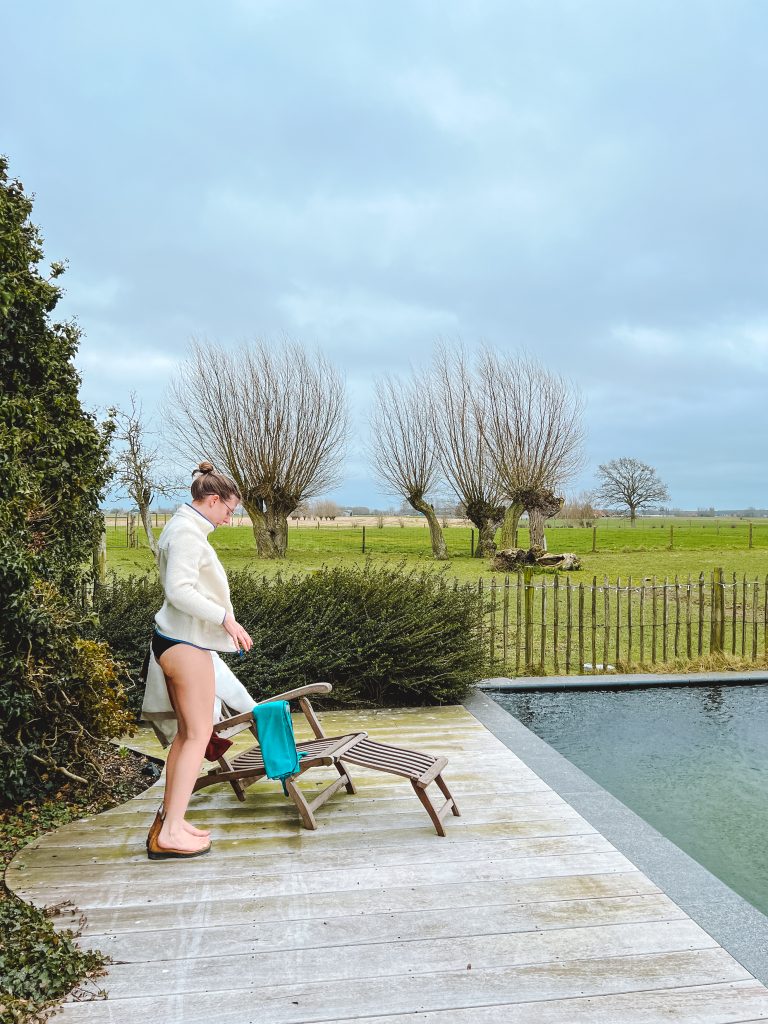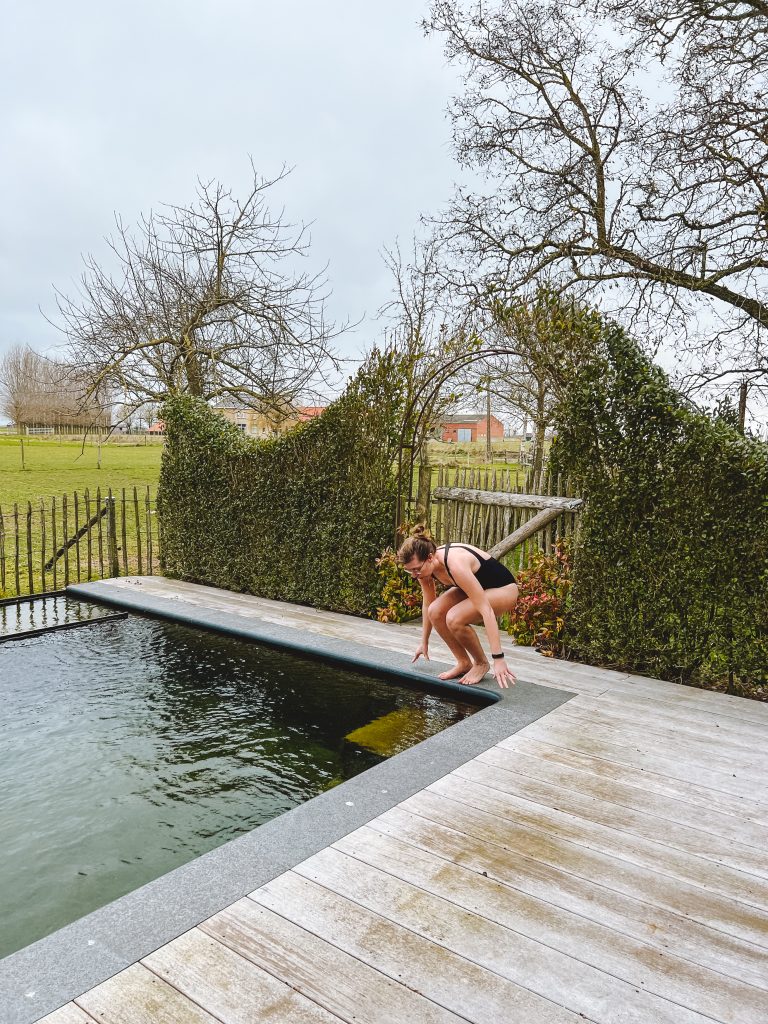 Things to Do in the Area
The first thing I suggest doing is doing some hiking. You are staying in the Westhoek, the farthest corner of Flanders, where you can find peace and quiet, rolling hills, hop fields, and countless walking and biking paths.
In Meers Cabin you'll find plenty of walking brochures. If you don't want to use your car, there's a route that starts from the cabin. I admit we didn't do any walking because there were wind gusts up to 70km/ hour, and we couldn't muster up the energy to face the harsh winds.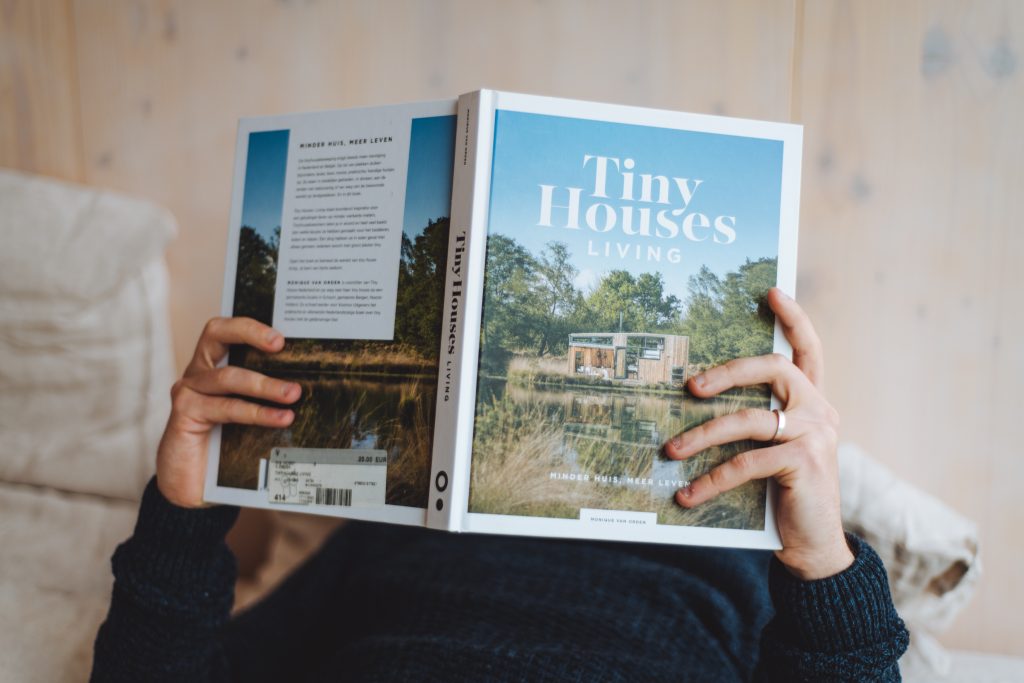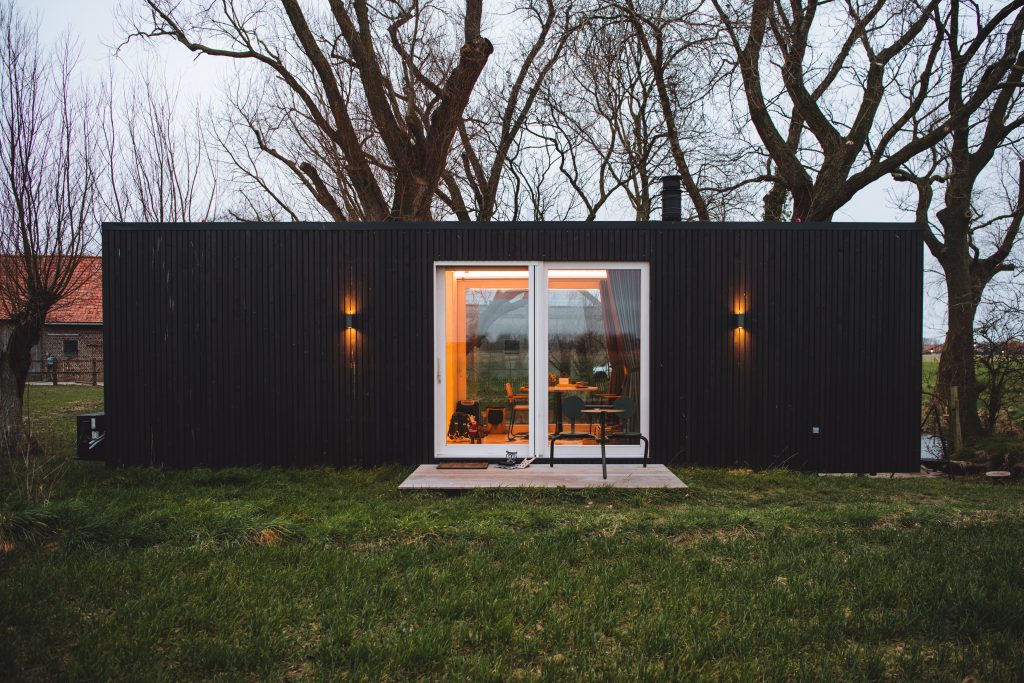 Instead, we visited the Hop Museum in Poperinge, which I visited as a kid. I wanted to see if I remembered anything. I didn't, but we enjoyed listening to the audio guide and learning about the hop harvest, now and in the old days.
We used our Museum pass, which gives you access to more than 220 museums in Belgium for 365 days. (price is €59 per person). Tickets are €6 without the pass, and kids (-18 years old) are free.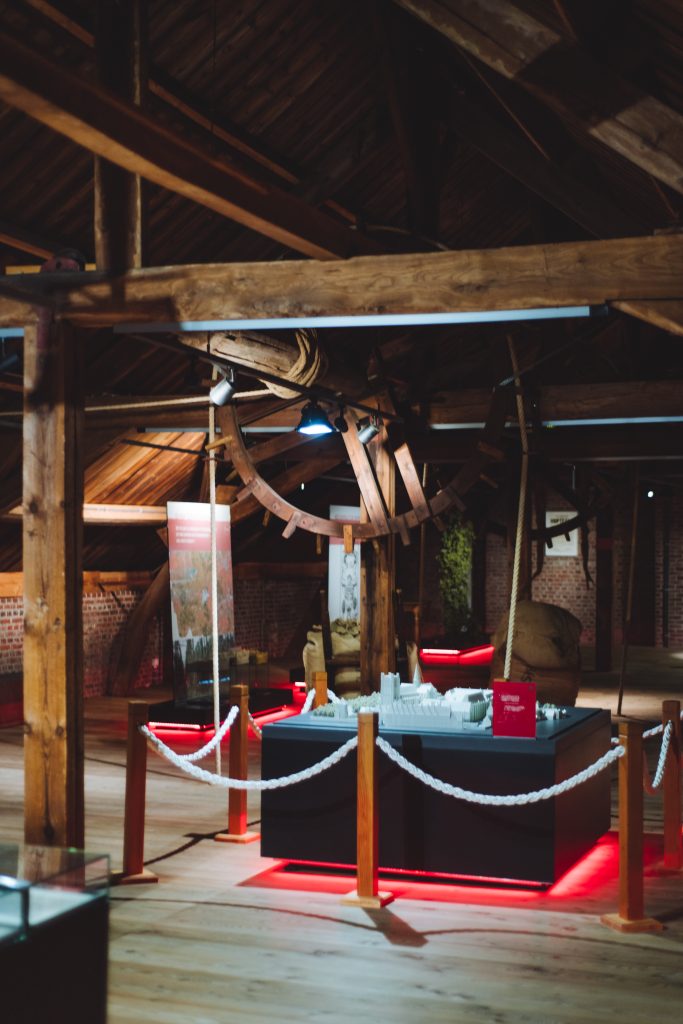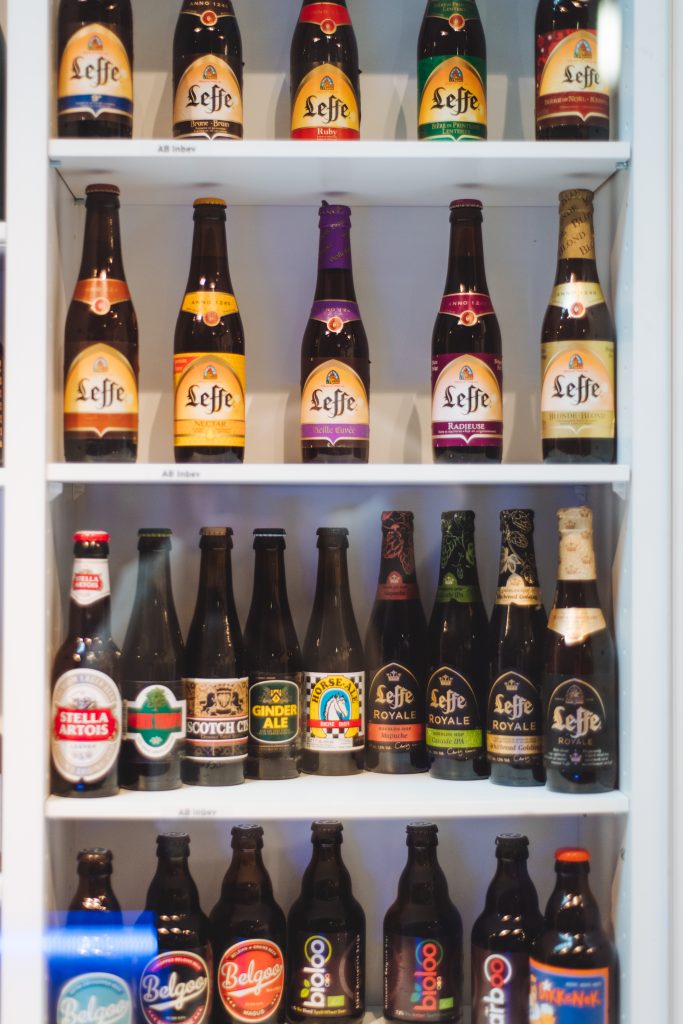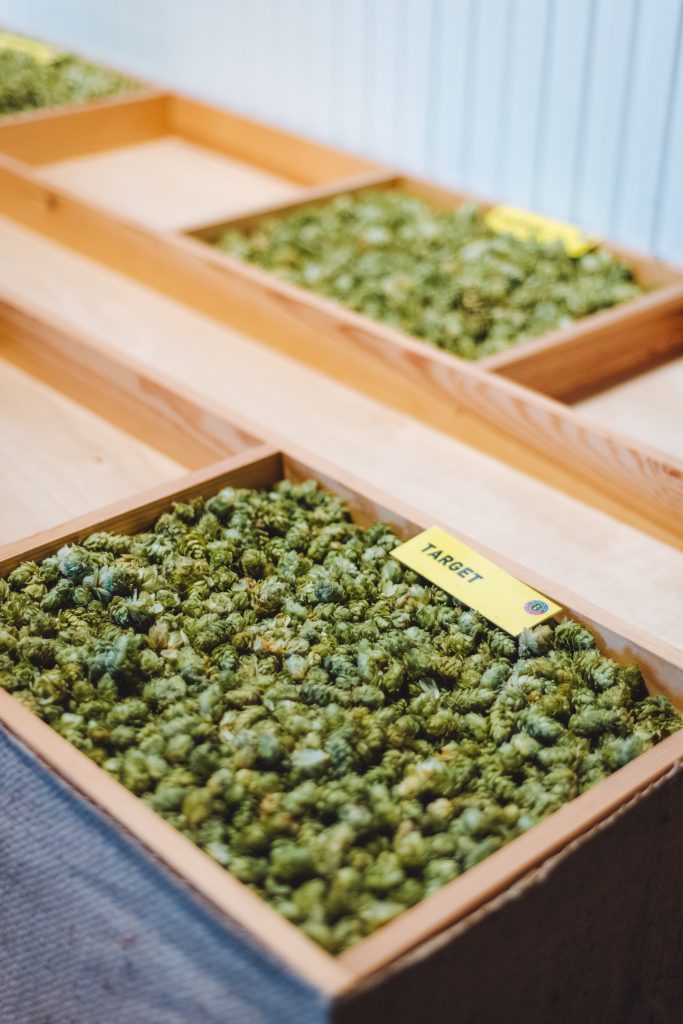 There was a temporary exhibit of old folk games, which we had great fun with. A bit awkward, though, because it was hushed in the museum, and the games were awfully loud. Let's hope we didn't disturb the other people too much…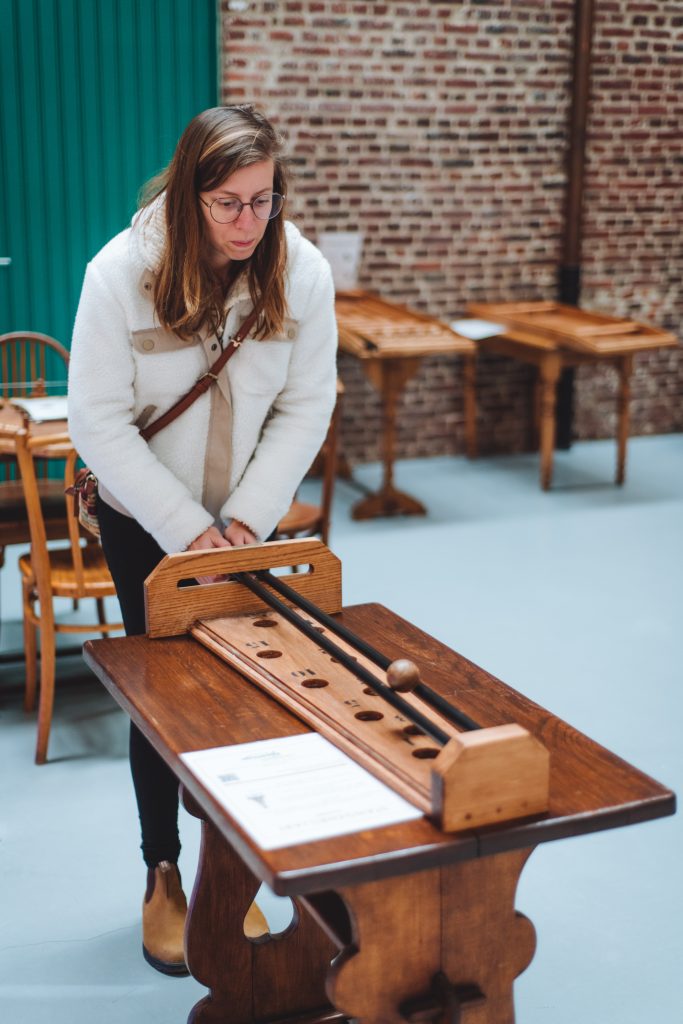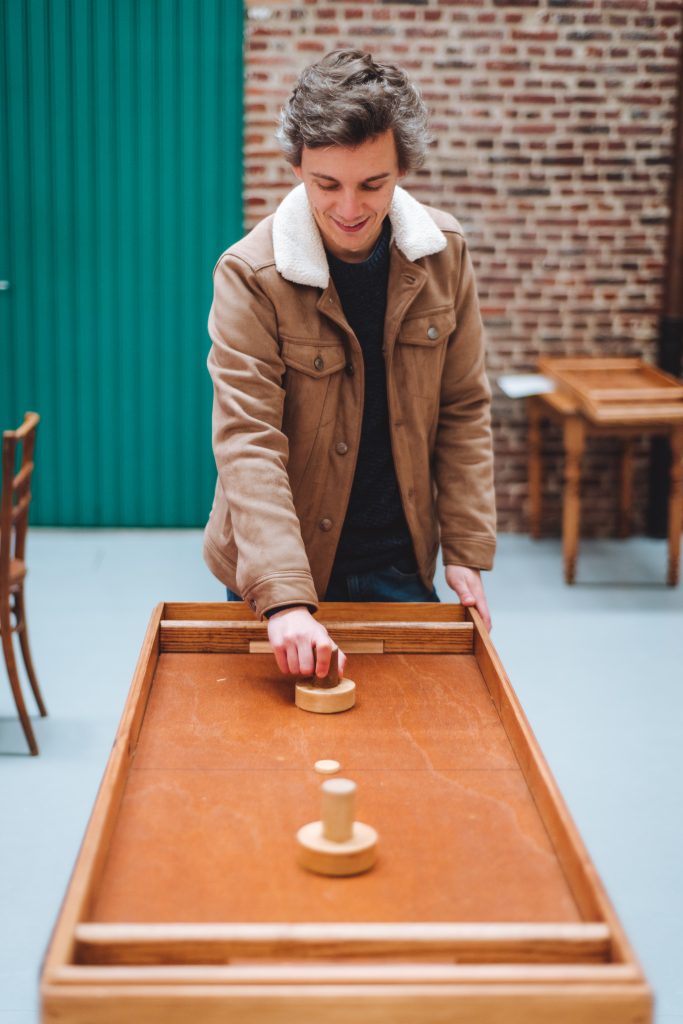 If you want to spend your weekend indoors, we don't judge! There are plenty of things to do; read a book, play board games, or watch the animals. We brought our binoculars with us and are very happy to report that we saw seagulls, pheasants, shelducks, and lots of other birds!
Have I convinced you to book a night or two in Alveringem? You can find them here!
For more cabin porn, go here!
Like this blog post? Pin it to save for later!